Aiyyooo, my creaky old bones can't take this cold.
It's a cold hell in the Northeast parts of America today.
There's a thick White carpet of snow outside.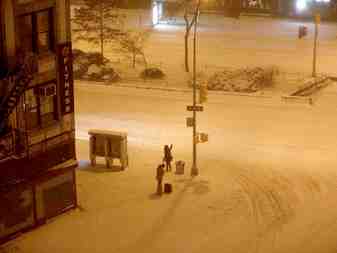 White Carpet in Upper Manhattan
(Pix Courtesy: NYT)
Life Halts
Most activity has come to a standstill.
Where I live it's 14°F (i.e. -10°C) outside.
If you take into account the wind chill, it feels like  -4°F (i.e. -20°C).
Snow all over the ground, several inches of it.
Right now the snow is in powder form but slowly turning into ice. A bad situation turning worse! 🙁
Tens of thousands of people in the Northeast have lost power.
Schools, courts, post offices and county government offices are closed.
Highways are deserted.
How I long for the summer heat of Chennai, body and clothes drenched in sweat and smelling like, well, an Indian. 😉