(For SI Blog reader Prabhakar)
Pizza (2012, Tamil) suffers from a yawning gap.
The disappointing chasm between intention and outcome.
Clearly, Pizza's makers (director/writer Karthik Subbaraj and producer C.V.Kumar) set out to make a different kinda of Tamil film.
Alas, they fell far short of their goal.
Different Toppings
We got an e-mail from a New Jersey film distributor/exhibitor Prabhakar a couple of days back informing us that Tamil movie Pizza was now available for streaming on iTunes ($2.99 for SD and $3.99 for HD) and requesting us to review it.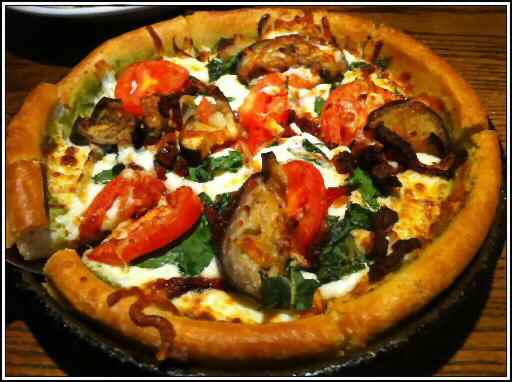 When Pizza first hit the screens 16 months back, I remember the film attracting attention for its offbeat story and absence of big stars.
And from what I recollect, the low-budget thriller made some money at the box office.
But after watching the two-hour long movie yesterday, my verdict is that Pizza, while a laudable attempt, is not enough of a thriller to warrant the hype.
As for the film's supposed cult status, all I can say is that someone has been overdosing on bad weed!
The movie centers around a pizza deliveryman Michael Karthikeyan (Vijay Sethupathi) and his pregnant girlfriend Anu, a horror-film buff.
The film plods on for a while and proceeds into higher gear when Michael encounters a bizarre experience during a pizza delivery at a posh house.
From the moment Michael steps into the mansion, it's Paranormal Activity meets Kollywood!
But the pizza delivery scene and subsequent happenings in the mansion were too drawn out, way too long, some of the circumstances extremely implausible and Michael's frantic behavior highly exaggerated.
More than fear or being transfixed by happenings on the screen, a strong sense of irritation overtook me.
Not for a moment did I believe Michael couldn't escape the house he was trapped in.
And his increasingly frantic antics became increasingly grating.
The lengthy contrived scene in the mansion made it hard to find much joy in the twist in the tale.
Despite all the hype, I wouldn't recommend Pizza.
Primarily because I didn't see much to thrill about in this so-called thriller.
Remember, different toppings don't always a superior pizza make.
I rented the SD version ($2.99) of Pizza on iTunes.
No, the film did not have English subtitles (at least not on a 27-inch iMac).  Maybe, the subtitles work only if you stream it via the Apple TV set-top to the television set.
Don't waste your money on renting Pizza on iTunes! It ain't worth it.
SI's suggestion – Add another $10 and get yourself a deep-dish pizza at Uno. 😉