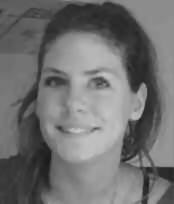 If all goes well, a pretty British angel Tabs Breese will bring the colorful South Indian transgendered people a.k.a. Hijras to life by way of a 90-minute documentary film.
Breese's goal is to follow three Hijras to the Koothandavar Festival in Koovagam village (near Villupuram in Tamil Nadu) where thousands of transgendered people gather every year to celebrate chieftain Aravaan's brief marriage to Mohini (an avatar of Krishna) and his death in battle.
Breese, who describes herself as a researcher and freelance journalist, is from London.
Here's Breese on the Hijra documentary:
Our narrative arc is simple. We follow three characters in the months leading up to the festival and then travel with them on the train to Tamil Nadu. The film culminates at the Koovagam Festival, against the backdrop of socially conservative India. We hope that this will make for an exciting, thought-provoking and visually arresting documentary.
Breese's film will include dances, animation to illustrate the back stories of the three Hijras and, of course, narration.
As a first step, aimed at getting funds for the 90-minute film, Breese plans to make a 15-minute teaser on the Hijras and is raising funds for the same via Kickstarter.
Breese says her Hijra film will not be a "gloom and doom" documentary focused on the negatives but will be a hybrid documentary (I have no clue what this 'hybrid documentary' neologism nonsense means).
Besides Breese, the other members of the Hijra film project include photojournalist Sindhuja Parthasarathy, director Georgia Oakley, director of photography Charlie Goodger, choreographer Ashwini Raghupathy and 'fixer' Krishna Pujari.
Hijra Teaser – Budget
Breese says she has raised £9,000 of the £15, 000 teaser budget and is trying to raise the remaining
£6,000 through Kickstarter.
As of February 10, 2014 (2:40PM ET), Breese had gotten commitments for £4,123 from 86 people with another 18 days to go before the Kickstarter campaign ends.
She says the pilot film will then be used to seek larger funds for the 90-minute feature on South Indian transgendered people.
If Breese succeeds in her Kickstarter pitch, the teaser shoot will happen from April 6-May 25, 2014. The teaser should be ready by August 1, 2014 for pitching at various forums for funds for the 90-minute documentary.
The current plan is to start shooting the 90-minute documentary film on January 1, 2015 and have it ready by September 2015 for submission to film festivals.
If you want to encourage Bresse's love affair with Hijras, you may do so by contributing to the cutie's Kickstarter fund.