Fear of getting pregnant is the biggest joy killer any woman faces while spreading her legs for a quick toss in the hay.
And our Sati Savitris a.k.a. Indian babes are no different from other women in their eagerness to spread their legs or fretting about unwanted pregnancies.
Hey, it's just hormones at play.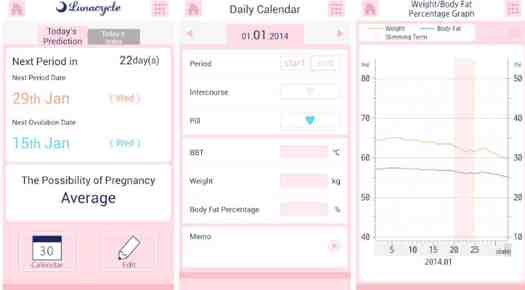 Unlike for a man who just shoves his dick back into his jocks, pulls up his trousers, buckles his belt and walks away with a smug smile, a screw is not just a screw for a woman because she can easily get screwed in the bargain.
A 5-minute screw can wreck a girl's happiness over worries of an unwanted pregnancy, abortion, social stigma if news of pregnancy leaks out etc.
Very unfair to women, but such is life.
Remember Aradhana?
Anyone who's seen the Bollywood blockbuster Aradhana (1969) knows what happened to Vandana (Sharmila Tagore) after Indian Air Force pilot Arun Varma (Rajesh Khanna) pokes her one night, dies soon after and leaves the unfortunate woman pregnant.
But for her unplanned pregnancy, Vandana would never have to go through so much turmoil in her life.
Help for Indian Women
Thanks to technology, Indian babes can now spread their legs without stress.
Japanese mobile software firm MTI Ltd has launched its LUNACYCLE app on Google Play and App Store, for Android and iPhone smartphone users in India.
Currently free (introductory offer), LUNACYCLE is a fertility tracker app designed to let women track their periods, calculate average lengths of them and predict when they will happen with precision and project their fertility based on the time of month.
The app is said come pre-loaded with several useful features – Predict next period/ovulation dates and period cycle length, avoid pregnancies, plan pregnancies, a health calendar that records menstrual dates, record body weight, body fat and also sets up alerts and notifications.
Users can input custom data about their individual health and bodies to enable more specific guidance from the app.
By helping women track body weight and diet, LUNACYCLE is also supposed to help women achieve fitness goals.
LUNACYCLE runs on Android smartphones and tablets with Android 2.3 and above, and iOS devices running iOS 6 and above.
The Japanese version of LUNACYCLE is said to be popular with five million users.
I think LUNACYCLE is an excellent gift that Ram, Robert and Rahim can give to Meenakshi, Mary and Mehrunissa this Valentine's Day! 😉