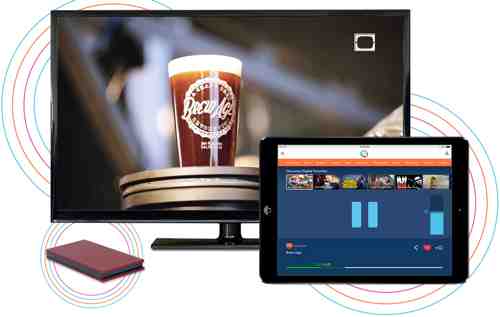 Somebody ought to get their head examined!
And I mean right now, kiddo!
There's a new $49 device out there called Qplay TV adapter for playing Internet video on your TV.
But here's the catch – Before you can get the $49 Qplay adapter to play Ram Leela songs or any other Internet video on the TV you first have to invest on an iPad tablet costing $280 and up (iPad price depends on screen size, storage capacity, model and cellular connectivity).
This whole idea of Qplay forcing users to have an iPad, download an app, and connect the Qplay adapter to the TV before Internet video of Bollywood or Kollywood songs will play on your TV is utter nonsense.
I can't imagine any of the other set-tops like Roku, Apple TV, Amazon Box (forthcoming), TiVo, Xbox, PlayStation, WD TV Play, Google Chromecast or Smart TVs requiring an expensive iPad tablet first before they will play your Internet video.
I have used the first-gen Roku box with its small remote for four years now. Works fine with a gazillion channels like Netflix, Amazon Prime etc.
I don't care if Qplay comes from the co-founders of TiVo.
I ain't biting.
My four-year-old Roku still does the trick fine.
What's wrong with a Roku remote or any other remote for that matter?
How Qplay Works
To get the $49 Qplay device to work with your TV, you first need to get an iPad and then download the Qplay app to the tablet!
I checked on my iPad 2 at the AppStore for the Qplay app. Yes, the app is available and requires you to be running iOS 6.1 or higher.
You use Qplay app on the iPad to discover content, playback and as a remote control for the TV which is connected to the Qplay adapter. The whole shebang is integrated with the cloud, where the video content is stored.
Then there's all this blah blah blah from Qplay about Qs (curated streams of video), continuous playing, cloud service  and social sharing.
If you ask me, consumers don't give a damn about the cloud and not many care about the social aspect too (at least not an asocial person like me).
I don't care if my Internet video comes from the cloud, Earth or Mars. I just want it to be simple like the Roku.
One of the biggest reasons for Roku's success is its simplicity. Hook up the Roku box to the TV (wireless or Ethernet). Voila, you're done. At least, that's what I did four years back. And it's still going strong.
Another Downer
In another big downer, the current version of Qplay does not even support Netflix or Hulu Plus, two of the biggest sources of Internet video in the U.S.
No Netflix support is insanity!
Qplay only supports YouTube, Vimeo, Facebook, Twitter, Vine and Instagram at the moment.
San Jose (CA) based Qplay was founded in August 2012. Redpoint Ventures and Kleiner Perkins Caufield and Byers bankrolled the startup.
I can't imagine Qplay getting off to a big start in its current incarnation.