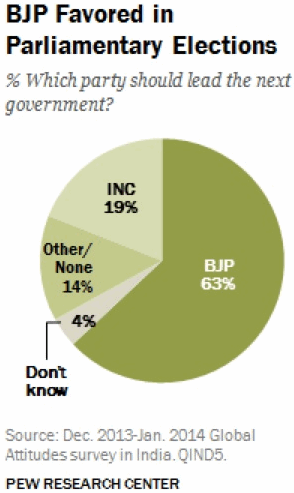 Millions of Indians live in Lalaland.
Hindu middle and lower classes itching to vote the BJP into power in the coming Lok Sabha (parliamentary) elections while dreaming of sweet relief from their woes will eventually swallow a bitter pill as their reward.
These Hindu dreamers are no better than cuckoos.
Business As Usual
Folks that believe the BJP to be a vastly different beast compared to the Congress ought to get their head examined.
Few Indians seem to realize the BJP and Congress are extremely similar in the one crucial respect that matters more than Hindutva.
Over the last couple of decades, both parties have jettisoned even the vestiges of the distributive justice agenda from their core platform and thrown in their lot with big business.
In their embrace of big business as part of the economic growth trumps distributive justice strategy, Congress and BJP are two peas in a pod.
No matter that this is a flawed strategy that improves the lives of only a tiny sliver of the population.
And a continuing disaster for some 800 million Indians who still live on the margins because the state's resources and attention are now focused exclusively on fostering economic growth via big businesses.
While BJP and its predecessor Jan Sangh were always pro-business, Congress too has abandoned distributive justice from its agenda in all but lip-service. By distributive justice, we mean significant allotment of resources to raise the lower classes from poverty and squalor through diverse programs.
When the state allies with business through various incentives and easing of regulations, there's bound to be some economic growth. We've seen such 'development' in Gujarat and even at an all-India level, post 1991, in faster rates of economic growth.
Although there will be some trickle-down crumbs from the alliance of the state with big business in the initial years, it will not be a substantial benefit covering many. The so called economic reforms unleashed since 1991 has hardly made a dent in the daily privation of hundreds of millions.
Reforms has lifted a few million Indian boats while leaving hundreds of millions derelict and in hopeless disrepair.
As the clout of business in government increases, that of labor and other groups must inevitably diminish. Businesses will continue to get bigger sops by way of countless tax concessions while the rights of labor and their union defenders steadily get throttled. And we've seen this happening in India with labor slowly getting emasculated.
The nature of Capital is to maximize benefits to the owner not to those who help in creating it. If cost of production can be lowered in any way possible, it will. And the victim will be labor/employees in diverse ways – outsourcing, hire & fire,  poor-paying jobs etc.
This 'economic growth' drama has already played out in the U.S. thanks to the ascendancy of the pro-business and low taxes party, the Republican Party and doubtless it will be repeated in India since it's following the same playbook.
Corruption – No Difference
One opinion poll after another suggests India's ruling Congress party is headed for a catastrophic defeat in the coming 2014 Lok Sabha parliamentary elections.
And that is, of course, incredibly sweet news! 😉
A hopelessly corrupt and utterly ineffective organization held together only by the venal ambitions of its members, Congress deserves to kiss the dust in the coming elections for its dismal record of the last 10 years.
But BJP, the Hindu nationalist, pro-business party that will most likely replace the Congress as the governing party after the 2014 polls, is no different in its venality.
Modeled after the Jesus-adoring Republican Party in the U.S. and acolytes of fascist thugs, BJP is composed of equally notorious scumbags. BJP leaders have been trapped in media stings for bribery, face rape and corruption charges, attack women over their dresses and found guilty in quasi-legal arenas (Lokayukta probes).
No surprise really, since leaders of both Congress and BJP come from the same fetid soil and cut from the same cloth.
But the biggest fraud perpetrated by the BJP is its adoption of Hindutva to mobilize India's Hindus into periodic anti-Muslim frenzies as a vote-grabbing strategy.
Indian voters would be extremely naive if they expect that replacement of the Congress with the BJP will usher in Ram Rajya (Rama's Rule, a glorious era for the people).
They will merely be exchanging one set of knaves for another.