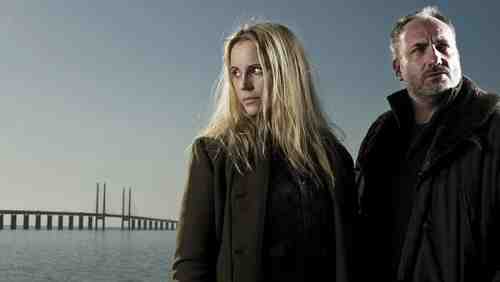 Swedish Crime Series The Bridge (photo courtesy: Sweden TV)
European TV crime dramas are like European and Korean crime movies – Classy, riveting, addictive stuff.
There's the delicious trifecta of subtlety, tension and thrill in European TV crime dramas and films, an appealing amalgam I find woefully missing from Bollywood and rarely encounter in Hollywood.
For the most part, Bollywood is crass, crude, copied stuff churned out by a gaggle of louts for a billion boors.
Hollywood too seems to have lost its way lately, inflicting us with either super-hero drivel or dreary bores for the most part.
Although languages like Swedish, Danish and Flemish are alien to most Indians, the story, photography and acting make European TV crime dramas a compelling watch (with help from English subtitles).
Such is the draw of non-English European crime dramas that they now find a receptive audience far beyond their borders, in UK, U.S. and elsewhere.
I amused myself with two non-English European TV crime dramas recently and have no hesitation in recommending both.
Bridge
The Bridge (a.k.a. Broen, Bron) is a Swedish-Danish crime series that starts off with the discovery of a woman's  dismembered body in the middle of a long bridge connecting Sweden and Denmark.
In Season 1, the focus is on two detectives (a young Swedish woman Saga Norén and her middle-aged Danish partner Martin Rohde) and their hunt for a serial killer.
The detectives make an unlikely pair – the woman is cold, outrageously insensitive and almost manic in her pursuit of the serial killer while her Danish male partner is calm, less frantic and possesses superior social antenna.
There's a colorful set of minor characters (cocky journalist, the lost young girl etc) who add to the dramatic impact.
In retrospect, I felt that I should have guessed the identity of the serial killer although events in Bridge are far from  predictable.
Season 1 of Bridge is available on Hulu Plus in the U.S. and on the French video sharing site DailyMotion.
Season 2 has also been out for some time but I haven't had a chance to see it.
Bridge has been so popular that an English remake, set around the U.S.-Mexico border between El Paso and Juarez, debuted last July on FX channel.
Salamander
Salamander (2012) is a noteworthy Belgian thriller that recently started airing on BBC Four.
The initial focus here is on robbery of 60 safe deposit boxes belonging to members of a powerful secret cabal called Salamander.
The theft is hushed up by a group of highly influential people (inside government and outside) but not before detective Paul Gerardi gets a whiff of it from an informer.
What secrets do these safe deposit boxes hold that certain people will go to any extent – suicide, murder, bombing – to prevent their content from ever seeing the light of day?
Once the dogged Gerardi starts digging into the theft of the safe deposit boxes, his life becomes a hellish nightmare.
Although set in the present, Salamander's story occasionally darts back to World War II days.
Sherlock
Sherlock (English language, 2010) is another European TV production that has found a wide audience with crime buffs worldwide.
Of course, Sherlock Holmes is not new to movies or TV.
The first movie featuring the eponymous detective and his sidekick Dr.Watson debuted in 1916 and there have been several since.
There's been no dearth of Sherlock Holmes on TV either. Starting with the BBC production in 1951 and through the Russian adaptation in 2013, there have been at least 10 TV dramas featuring the ace detective.
I've watched a few episodes of the latest British production Sherlock. Season 1 debuted in 2010 and Season 3 recently got going in the UK.
As is to be expected of a Sherlock Holmes series, Sherlock too is set in the UK. But with one key difference – Our detective and his constant companion Dr.Watson are in contemporary London, not 19th century England.
Although I haven't seen as many episodes of Sherlock as I have of Salamander or the Bridge,  I've seen enough to assure you that your time will not be wasted with the latest English production about the world's most famous sleuth.