Just this morning, an Indian friend was gushing about the (almost) free text messaging app WhatsApp (costs $1 a year after the first free year).
My buddy was blah-blahing about how useful WhatsApp was during his peripatetic travels.
And in an odd coincidence, a few hours later I learned India was the biggest market for WhatsApp with 48 million users (Brazil is second with 45 million users).
The easy explanation for WhatsApp's success in Mera Bharat Mahaan is that Indians love to clamber on anything cheap or free!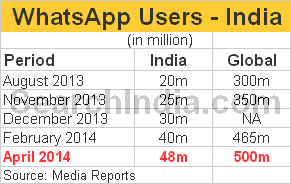 Text Tsunami
I understand there's a Text tsunami underway around the world with billions of messages sent and received every day.
I wonder what people/Indians text each other about.
Based on media reports, I know teens are into sexting a lot. No surprise there given the raging hormones! 😉
But what about grownups? Are grandma and grandpa also into sexting? Maybe! The world is a lot weirder than we can imagine!
Besides facilitating the core task of exchanging texts, photos and videos, I understand messaging apps can also be used for file transfers, which I suppose makes them useful for techies.
I send no more than two or three texts a year, sometimes less.
Back in the old days, my text messaging app was AOL IM, then shifted to Hotmail's Messenger and of late I've been using Apple's free iMessage app, which comes pre-installed on iPhone, iPad and iMac.
In the last nine years I've sent no more than 20 texts (of which three or four were today). I'm not joking! Almost all the text messages I sent or received over the last nine years were piffle (except the one where a buddy in Philadelphia sent across a picture of a Hustler cover)!
I downloaded WhatsApp to my iPhone 5S about six months back but never activated it.
WhatsApp rivals include cross-platforms apps like Line and Viber, and iMessage (Apple platforms only).
Just in case you were hiding under a rock, Facebook acquired WhatsApp in February for $19 billion.
With so many messaging rivals (some free), I doubt if Facebook is going to be able to make money off WhatsApp.