The catalog of desi crimes in America grows more varied every day.
Kidnapping, Murder, Election Campaign Contributions Fraud, Robbery, Visa Fraud….and now comes news of a guilty plea to Child Sex Exploitation by an Indian doctor in New York.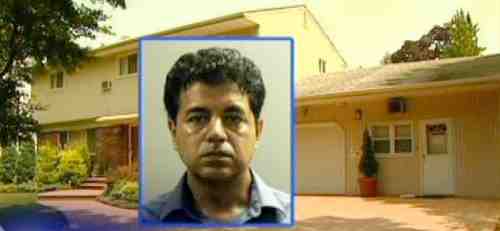 Child Sex Exploitation – Indian Doctor Rakesh Punn Pleads Guilty
(Image Courtesy: ABC)
Child Sexploitation
Long Island Indian pediatrician Rakesh Punn, 56, who got his jollies from watching young nude girl patients and recording them surreptitiously, faces a minimum prison term of 15 years following his guilty plea to child sexual exploitation.
The maximum prison term for such crimes is 30 years.
Rakesh Punn pleaded guilty to Count One of his Indictment:
The lascivious exhibition of the genitals and public area of Jane Doe Number One.
Punn's sentencing is scheduled for September 12, 2014.
Since Rakesh has been in custody following his arrest on July 15, 2010, we suspect he'll have to serve a minimum of 11 years in prison (assuming he gets a sentence of just 15 years).
Most likely, there will be some asset forfeiture too (meaning that some of Rakesh's assets will go to Uncle Sam).
Case Background
Court filings show that Punn has been charged with sexually exploiting three minor pediatric patients, under the guise of medical treatment, at his office in Bethpage (Long Island), and recording the activities. between September 6, 2007 and January 21, 2008.
Besides sexually exploiting young girls, Dr. Rakesh Punn is said to have "submitted fraudulent insurance claims for the purported treatment of those three children and three other pediatric patients, when, in fact, the purported treatments had not been conducted for any medically accepted purpose, but rather, solely for the sexual gratification of the defendant."
The Federal Bureau of Investigation, the Nassau County District Attorney's Office, the Nassau County Police Department, the Department of Justice Criminal Division's Child Exploitation and Obscenity Section (CEOS) and High Technology Investigative Unit (HTIU) and the U.S. Attorney's office for the Eastern District of New York jointly nailed Rakesh Punn.
Rakesh Punn appears to be from Punjab since he went to medical school in Ludhiana.