1PM – If you expect India will turn into a Land of Milk and Honey following Narendra Modi's victory you ought to get your head examined!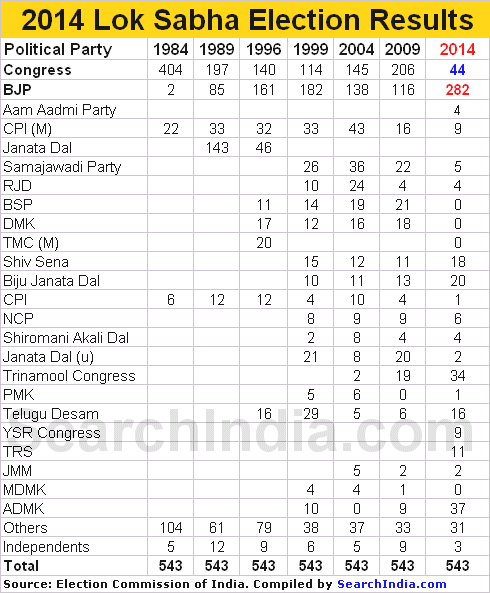 12:50PM – "He has my blessings and he will lead the country towards development," says Narendra Modi's mother Hiraba Modi
11:50AM – DMK rout! Fight between Azhagiri & Stalin will intensify now. Fun times ahead! End of Kanimozhi, Shanimozhi, Raja, Koja etc.
Kadavul Irrukaran (God exists)! 😉
11AM – Narendra Modi will be India's 15th Prime Minister
10:10AM – AAP balloon bursts, draws a blank in Delhi.
10:05AM – Narendra Modi's mummy happy with results. What about Modi's abandoned wife? 🙁
10AM IST – Sensex up nearly 1300 points. Not good for Aam Aadmi (I mean the people, not the party). Sensex rise is good for investors not for average people!
9:55AM – Ha ha ha. Corrupt A.Raja and joker Karti Chidambaram trailing. God Exists! 😉
9:46AM IST – I can't wait for the Rats to desert Congress. Will happen if I know my former countrymen. 😉
9:37AM – WOW!! Infosys co-founder Nandan Nilekani trailing. Success in Software does NOT translate into Success in Politics
9:34AM IST – Modi/BJP wave sweeping India
9:23AM IST – Corrupt DMK Screwed Royally!
9:16AM – Corrupt Congress Chutiyas Staring at Huge Defeat
9:08AM IST – God, Grant me Rahul and Sonia Gandhi's defeat
9AM IST (11:38PM ET) – BJP off to a strong start
Counting has started for the 2014 Lok Sabha elections that concluded recently in India.
If we're lucky, Congress will be decimated. But the alternative, BJP, is not much to look forward to either.
BJP is as rotten, and as corrupt as the Congress. And to those who think Narendra Modi will usher in a Ram Rajya of wealth and happiness for all, could you please share some of the weed you are smoking.