If there's a shittier way to die, I've not heard about it.
What I'm about to tell you is worse than death by rape + hanging in Akhilesh Yadav's Uttar Pradesh, by lethal injection in Oklahoma, by rape in Congo or by shooting in Putin's Russia.
Brace yourself now!
Two people died in in a shit hole in Xinxiang city, Henan (China) in the course of retrieving a new cell phone that fell into the cesspit.
A young Chinese woman was unloading her digested dumplings, hot-dogs (the canine variety, not the American ones in a roll) and chowmein into an open cesspit when she dropped her new, $324 cell phone into the shit hole.
In an effort to retrieve the cell phone, her husband first jumped into the shit hole and quickly lost consciousness (likely because of the Methane gas).
Then his mother dove into the shit-hole to rescue her son and met the same fate.
The shitty woman, who triggered the incident,  jumped in next and she too lost consciousness.
Husband and mother-in-law of the young woman met a shitty death and three others were injured.
All for a shitty cell phone!
No, I'm not making up this story, bizarre as it sounds.
Maybe, it's time for a Shit Hole app warning users not to take their Cell Phone to the Poo room.
Sure, some people can walk and chew gum at the same time but as the tragic incident shows you can't crap-crap and yak-yak on the cell phone simultaneously.
Click on the below image from the South China Morning Post for the full, shitty details.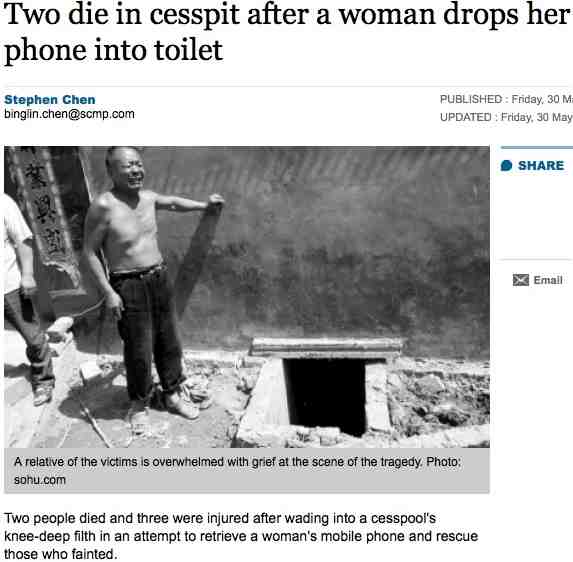 (Image Courtesy: South China Morning Post)