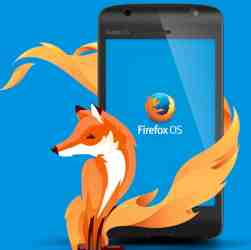 The tech world generates more hype than Bollywood babes Katrina Kaif, Sonakshi Sinha and Deepika Padukone combined.
If you listen to the tech mavens, the Utopia of cheap and wonderful gadgets is always just around the corner for Indians.
A decade back, the made in India Simputer was all the rage.
Pundits prophesied that the Simputer would bring the magic of computers to every Indian village, town and city. Well, as we now know Simputer turned out to be like Bollywood actress Gul Panag's political career. Failed to lift off from the launch pad.
Then there was the Congress idiot Kapil Sibal babbling about the $35 laptop.
Ha ha ha! The $35 laptop was like the Congress party at the 2014 elections – a total dud.
$25 Firefox OS Smartphone
Now it's the turn of Firefox OS to jump on the runaway hype train.
If you believe all the stuff about Firefox OS smartphones phones, they're going to be available for $25 and targeted at  several countries including India.
I kid you not about the $25 device. That's the claim of Firefox browser developer Mozilla, the folks behind Firefox OS.
Here's what Mozilla's COO Jay Sullivan said in February 2014 at the Mobile World Congress in Barcelona:
We are also enabling a whole new category of smartphone, priced around $25, that will bring even more people around the world online.
Coming to India
The latest buzz is that Indian mobile companies Intex and Spice will be bringing the Firefox OS smartphone to India in a few months.
These phones are to be based on chip-sets from Chinese vendor Spredtrum.
I bet – if these Firefox OS phones are ever introduced in India – they'll be nowhere near $25.
I'd be extremely surprised if indeed a Firefox smartphone is available for $25 in India anytime in 2014 or even next year.
I'm talking of a mobile phone that can make and receive calls and lets you surf the web. Not a wooden box with a yellow and pink label that says Firefox OS mobile phone. 😉
Meanwhile, the people at Mozilla say 22 key telecom operator now support the Firefox OS devices.
With Chinese vendors like Xiaomi bringing Android smartphones with powerful specs down to $100, I'd be surprised if Firefox OS ever makes much headway in the smartphone segment.
But I desperately hope that Firefox OS succeeds because competition is always good for the consumer.
And I'm going to be rooting for Firefox OS against the key competing mobile platforms iOS and Android.