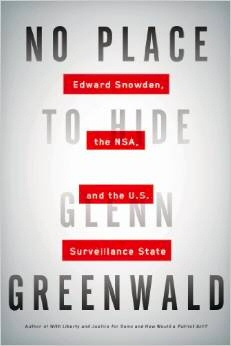 Not a day passes that I don't hear of Mera Bharat Mahaan getting shafted by someone or the other.
I just completed Glenn Greenwald's No Place to Hide, the new book on Edward Snowden and the massive spying apparatus built by the U.S. spy outfit National Security Agency (NSA) in my adopted homeland Amreeka and around the world.
And I was not in the least surprised to learn that the NSA has been paying Indian intelligence agencies money.
Why would I be surprised?
The distinguishing characteristic of Indians is to extend their hands out in perpetuity. After all, we're the world's numero uno beggars.
But what got my goat was the injustice of the whole business.
The fact that we Chutiyas (Indians) are once again losing to the Khutiyas (Pakis).
You see, the NSA (of "Collect It All" fame) has been paying Indian spies far less money than what they're paying Pakistan's spy agency, most likely ISI.
Now what can the Paki mongrels have that's more valuable than Indians possess. More often than not, the Paki dogs take our (American) money and then stab us in the back in countless ways.
In 2012, Indian spies received a pittance, barely  $100,000, from the NSA whereas the Paki dogs received over $2.5 million.
No, I'm not making up the NSA bribes to Indians. It's there on p.124 of No Place to Hide in the form of a top secret chart.
Neither NSA nor Greenwald call it a bribe but refer to it as "Funding of Partners."
But it's nothing but a bribe for some dirty deeds done by the Indian spies at the behest of NSA.
By the way, a more recent top secret chart (Fiscal Year 2013) describes India as one of the "Approved SIGINT Partners" but is relegated to the status of "Third Parties." See p.123 of No Place to Hide
Chutiyas – Buggered Royally by NSA
By the way, Chutiyas have been buggered in several ways by the NSA.
Here're a few ways of how Mera Bharat Mahaan got buggered by My Amazing Amreeka!
In a single 30-day period, NSA scooped up 13.5 billion telephone calls and e-mails from India under the Boundless Informant program. See p.92 of No Place to Hide
So imagine how much information they must have collected on the Chutiyas over a several-year period.
So if America hater Shahrukh Khan said anything against Amreeka, or Salman Khan discussed how to beat the drunk-driving murder rap with his lawyers, they're all meticulously stored at NSA's big data warehouses. 😉
And all ye Chutiyas using Facebook, Twitter, Yahoo, Gmail, Microsoft/Hotmail, Skype etc, yes the NSA has all your e-mails.
And your late-night telephone calls to Auntie, Meena, Ritu, Sheetal, Ramunajam, Komanujam, Surendar Modi, Deepak Patel where you had phone sex and talked rubbish about Obama, Osama, Modi, Rahul, Sonia, Manmohan etc, yes, they're all stored for perpetuity by the NSA!
Any time an NSA analyst in Fort Meade (Maryland) gets bored, he'll probably listen to Tamil 'actor' Vijay wailing over the fate of Thalaivaa or Sonakshi dissing Deepika and Deepika dissing Katrina. 😉
Malware on Indian Computers
NSA has also implanted malware called "Quantum Insertion" in key computer installations in Delhi, Kolkata, Mumbai, Hyderabad and other major Indian cities.
Indian malware plant operation was undertaken by NSA's Tailored Access Operations division. See p.117 of No Place to Hide.
Only Jesus and Ram know how many Indian computers have NSA malware installed on them.
NSA has spied on India not just over there but here in the U.S. too.
Under the HIGHLANDS program, NSA has planted bugs in the Indian Embassy and the Embassy Annexe in Washington DC and in India's UN mission in New York. NSA has also spied on India's Embassy and the UN Mission via the VAGRANT program (collection of computer screens).
Through the MAGNETIC initiative, NSA has deployed sensors to collect 'magnetic emanations' from the Indian UN Mission in NYC.
Here's the worst that's happened to India – NSA has taken copies (images) of hard drives from the Indian Embassy in Washington DC and the UN Mission in NYC under the LIFESAVER program. See p.146-147 of No Place to Hide.
Knowing Indians are World's No-1 Chutiyas, I would not be surprised in the least if there are American spies or double agents working inside the Indian Embassy in DC and India's UN Mission in NYC.