Are we going to stand here all day? Or are we going to fight?
– Harry Hart (Colin Firth) in a pub at the beginning
&
Eggsy (Taron Egerton) in a pub at the end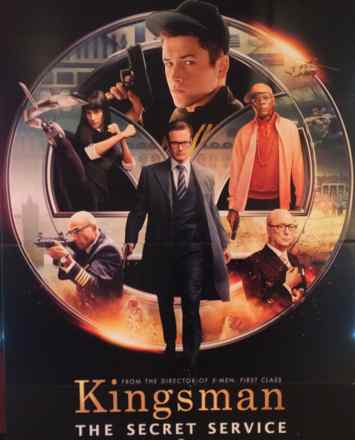 A valiant, heroic effort from Colin Firth can't stop Kingsman – The Secret Service from turning into the proverbial Apples of Sodom.
At least to these ol' brown eyes!
Firth never fails to send my pulse zipping and the British acting legend of King's Speech and Railway Man fame does so here too in an uncharacteristic role, for him.
The other screen-fillers (mainly Samuel Jackson, Taron Egerton, Sofia Boutella, Michael Caine and Mark Strong) in this visually engaging film never left me feeling shortchanged either.
Just that Jane Goldman and Matthew Vaughn (also the director) royally buggered up the screenplay and, ergo, my mood last night.
Matthew Vaughn, in case you've forgotten, in years past brought crowd-pleasing adventures like Kickass and X-Men: First Class.
But the stiff is way out of his depth here when he's handed the pen.
Some Charms, Sure
A spy-comedy if you're talking genre, Kingsman falls short in both comic and spook departments.
The laughs are few and far between and the action scenes, although not bereft of fleeting charm, are certainly not Bournesque.
Founded in 19th century England and operating under the camouflage of a Saville Row establishment, the bespoke suited Kingsmen are members of an elite gentlemen spy outfit whose mission is to preserve international peace, protect lives and work for the greater good of humanity.
Modern day knights in impeccable, bullet-proof suits.
Harry Hart aka Galahad (played with characteristic elan by Colin Firth) is a spook unlike any you've seen before. Think the old suave Bond before the Hollywood crazies got their hands on him and turned him into a prosaic Bourne.
A sui generis umbrella is the most powerful tool in Harry's arsenal of spy-gear!
Feeling a lingering debt to a departed colleague in a Middle East fuck-up, 17-years later Harry tries to repay his dues by ushering the late spook's petty criminal son Eggsy (Taron Egerton) into the secretive clan and pits him against a bunch of Oxbridge rivals in a rigorous recruitment ordeal.
To my chagrin, Eggsy's recruitment exercise ate up far too much precious film time.
But my biggest grouse with Kingsman though is that Richmond Valentine (Samuel Jackson), for the most part, is more clown than the villain he's purported to be!
And a clownish villain, he with a severe distaste for the sight of blood, is an unpardonable offense in a spy film, in my reckoning! Algerian babe Sofia Boutella is alluring as Valentine's killer assistant with prosthetic steel legs that are frequently weaponized thanks to the marvel of CGI,
Tis' never clear until the end what exactly Valentine's motivations are as he goes about handing out free SIM cards to billions of Earthlings.
Disappointing as Kingsman turned out to be, and chapfallen as I was exiting the movie house, I easily consoled myself that an unsatisfying Colin Firth film is still orders of magnitude superior to a senile right-wing nut's warped sniper fantasy (American Sniper).