Holy Crap!
Who'd have thought Indian asses would get such a warm, fuzzy welcome from an American hotel chain!
Times sure have changed!
Don't get me wrong now.
By asses, I don't mean those poor quadrupeds that bray and trot uneasily beneath their heavy burden.
I mean the literal brown asses of my fellow brown-skinned Indians.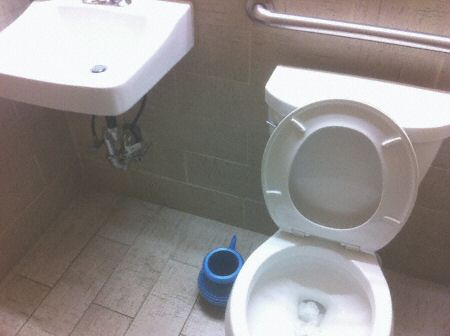 Mug in Toilet of NYC Indian Restaurant
Ass Kissing
To pander to Indian asses, some prominent hotels in the Starwood Hotels chain including Sheraton, Le Méridien and St.Regis have lately started keeping mugs in the bathrooms.
As we desis know well, Indians have an abiding love for the mug and enduring distaste for paper when it comes to cleaning their Hindu asses.
Westerners would be surprised to learn that 1.2 billion Indians start the day with a mug.
When it comes to cleansing their asses, there's one mantra Indians have taken to heart for millenniums:
Mug of Water + Left Hand = Nirvana
The Indian penchant to wash their Hindu asses with a mug of water is as old as the hills.
Kali Yuga, Dwapara Yuga, Krita Yuga, Treta Yuga, in any era water has been the sole savior of Indian bottoms.
Rama, Sita, Krishna, Draupadi and her multiple husbands and their countless devotees have rejoiced in the soothing feel of H2O flowing down the eddies and nooks of their Hindu derrières every morning.
Like French philosopher René Descartes' famous coinage Cogito, ergo sum (I think, therefore I am), Indians have developed an equally famous dictum, I'm Indian, therefore I use mug.
Unity in Diversity
Indians may be divided by language, caste, religion and region but the mug unites them all.
The telecom billionaire in his Noida farm-house on the outskirts of the country's capital New Delhi, the rag-picker in Mumbai's Dharavi slum and a dirt-poor farmer in Tirunelveli district in the deep south of India are all brought together by the mug.
So strong is the Indian attachment to the mug that not even their migration to distant shores has unglued the mug-bond.
You can take the Indian out of India but you can never yank the mug from an Indian's hand.
Indian restaurants in New York City and New Jersey routinely keep a mug in toilets as a "Welcome Home, You're Now Among Friends" gesture to desis.
Continue reading »