So you are a desi with just five hours to poke around Washington DC before heading back to Palookaville.
Excuse me, I borrowed Palookaville from Marlon Brando who used the word in one of the most famous scenes in motion picture history.
Let's get back to DC, shall we, and leave Brando and On The Waterfront to RIP.
Here's what a smart, short-on-time desi ought to do to maximize his entertainment and get the biggest bang out of the few hours in the U.S. Capital.
What to Skip
First, strike the White House off your to-see list.
Sequestration means you can't tour the inside of the White House and seeing the President's quarters and office from outside is no different from looking at a picture.
Second, forget the Smithsonian Museums. There's always a lengthy line at these marvelous, free museums and it takes hours to do justice to even a single museum.
But definitely make time for these modern-day Lyceums on a following visit.
What to See
1. 10AM at Union Station.
Start your mini-odyssey of DC by making the Union Station at 50 Massachusetts Ave NE your first port of call.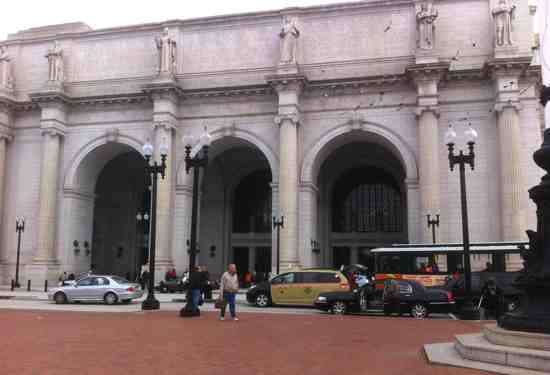 Union Station, Washington DC
Opened in 1908, Union Station is a grand edifice (grand by U.S. standards, that is) built in part classical style. Designed by architect Daniel Burnham, the station is home to Amtrak trains, the DC subway system and, since 2012, to the inter-city Greyhound/Megabus/Peter Pan buses on top level. Yes, there's parking lot above.
The food court in the lower levels panders to different palates whose owners have thick wallets.
Sadly, the dilapidated theatre screening Bollywood movies inside Union Station is closed!
SI watched the infernally bad Thoda Pyaar, Thoda Magic at the Union Station theatre a few years back before it shut its doors forever.
Don't miss Columbus Fountain and Statue, and the replica of the Liberty Bell in front of the station on your way out the main entrance.
After ogling at the imposing interiors and facade of Union Station, please don't rush off. There's always some Jesus, O' Jesus, Bible, Hell, Eternal Damnation freak screaming some hilarious nonsense outside the station. Watch and listen to the nut-job for a minute or two.
Free entertainment. Pukkat, as they say in Mera Bharat Mahaan.
Now start walking toward the U.S. Capitol building along First St NE.
Just before you reach the U.S. Capitol Visitor Center, you can see the U.S. Supreme Court on the left. Compared to some of the other historical buildings in Washington DC, the Supreme Court left me unimpressed.
Maybe, what I saw was the unattractive buttock side of the court.
Hey, any building in Washington DC housing so many conservative weirdos (think Clarence Thomas, Antonin Scalia, John Roberts, Samuel Alito) with their asinine fixation on the "originalism" legal theory of the founding fathers must have an unattractive side, right? 😉
The Library of Congress building is down the road from the Supreme Court, on the same side and diagonally opposite the Capitol Visitors Center.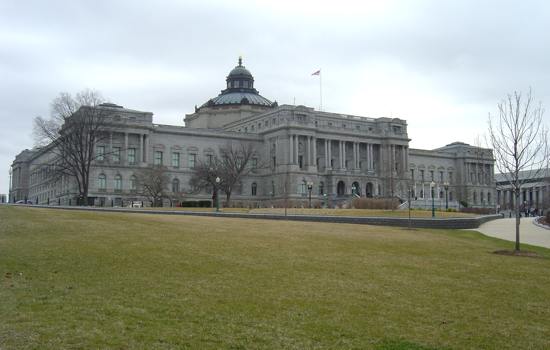 Library of Congress on First St SE (as seen from grounds of Capitol building)
Useful Hint: There's a tunnel inside the U.S. Capitol to reach the Library of Congress. Use it if you want to skip the security line at the library.
2. 10:17AM at U.S. Capitol.
It should take you about 15 minutes to reach the U.S. Capitol Visitor Center from Union Station.
Some same-day passes are available but better go online and get them in advance. There's not much of a rush during Winter, however.
When I went there yesterday (March 11, 2013), there were few people and the line was short.
For the benefit of the many schmucks thronging this blog, the U.S. Capitol is the most dysfunctional building in the whole country since it houses the most hated institution in the nation, i.e. Congress.
Security is tight inside the Capitol building and like at the airports you'll have to remove your jacket, belt etc and put them into the X-ray machine.
For some reason, my backpack got extra attention from the lady at the X-ray machine.
She looked at me, eyed my cute Lowepro backpack, then inserted her gloved hand into dark recesses where no hand except mine had ventured before and proceeded to give a slow and thorough handjob till she was completely satisfied. 😉
Nothing incriminating found inside the backpack (but I plead guilty to mental masturbation of the cutie)!
Like my former President Jimmy Carter said in the famous Playboy interview:
I've looked on a lot of women with lust. I've committed adultery in my heart many times…. This is something that God recognizes, that I will do and have done, and God forgives me for it.
Ah, Jimmy, the American people are idiots for voting you out and voting in that monumental jackass Ronald Reagan! 🙁
All my backpack contained was Malachy McCourt's delightful memoir A Monk Swimming, my iPhone, a couple of cameras, some loose change, keys, a few napkins (no, not those kind) etc.
Handjob and fondling over (of my backpack, that is), I made my way over to the reception of the Capitol Visitors Center to pick up a pass.
Got one easily.
I suppose Winter is a good time to visit Washington DC if you wish to avoid the crazy crowds that descend on the Capital in Summer from woebegone places like Artesia, Edison, Iselin, Sunnyvale, Devon Ave and Hicksville.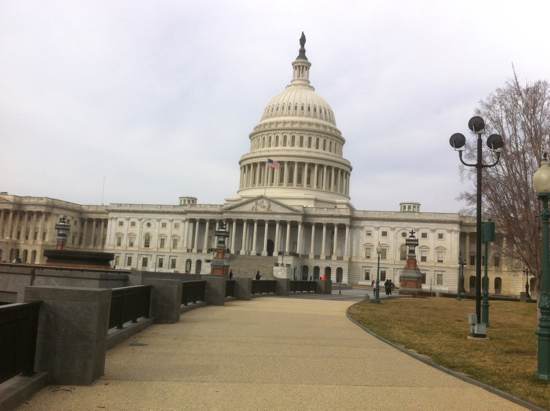 U.S. Capitol (as seen from First St NE)
Free conducted tours are available inside the Capitol with a red-jacketed guide droning on into the free-headsets (supplied at the start of the tour and to be returned).
There's a 13-minute video inside an auditorium about the history of the building, 13-States, blah blah blah, George Washington, blah blah blah, British, Great Fire, blah blah blah, Civil War, Lincoln, blah blah blah, before the building tour starts.
The entire tour of the building lasts about 50-minutes.
No tipping necessary for the guides.
Although if my tour guide had been a nubile member of the distaff sex, I'd have been mighty tempted to dip my hands into….. my pocket! 😉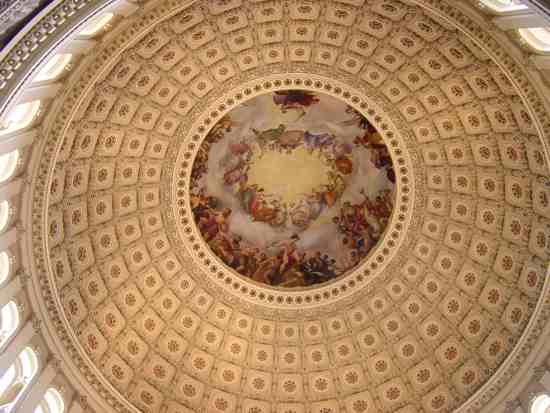 Ceiling Dome of the Capitol Rotunda
Unless you take into account rabid, let's fuck-the-poor freak-shows like Senator Mitch McConell and Congressman Paul Ryan, the Rotunda is the most unique place in the Capitol building.
Located on the second floor, Capitol Rotunda is a huge, domed, circular room 96 feet in diameter and 180 feet high.
Gazing above at the magnificent dome, I suddenly felt an urge to see the Vatican's Sistine Chapel ceiling painted by Michelangelo.
Besides the splendid domed-ceiling, the Capitol Rotunda also contains statues, huge paintings on the side-walls and impressive friezes high above.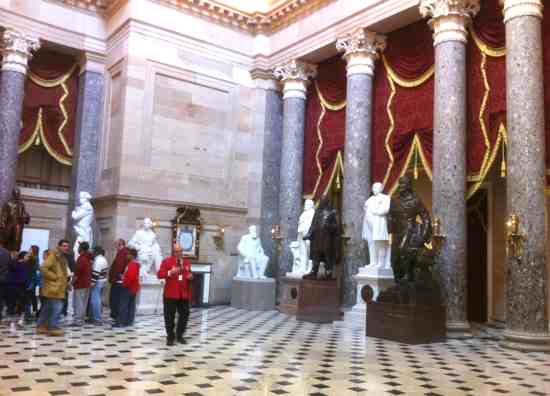 Inside of Capitol Building
Useful Web Site: http://www.visitthecapitol.gov
After exiting the Capitol building, walk desultorily around the area for about 10-minutes and soak in the atmosphere of the most powerful place in the nation.
That's exactly what SI did yesterday.
Then I spotted a DC cop languorously waiting to pounce on a Jihadi and asked him for directions to D St and 7th St NW (Rasika).
By the way, there are a lot of idle employed people in DC, the most visible symbol of corruption in the nation's capital.
Yes, overstaffing is the bastard child of corruption in the bureaucracy and corridors of government.
I saw several of these idle employed members of the homo sapiens specimens yesterday inside the Capitol, inside subway stations, sitting in cars, standing outside etc.
Maybe, Republicans do have a valid point about wastage in government!
3. 12:25PM at Rasika.
After walking around, ogling at all-and-sundry, SI arrived at Rasika.
A pretentious Indian restaurant with an unsmiling, rude host at the reception who pointed to the bar and said Shit there, Same Menu.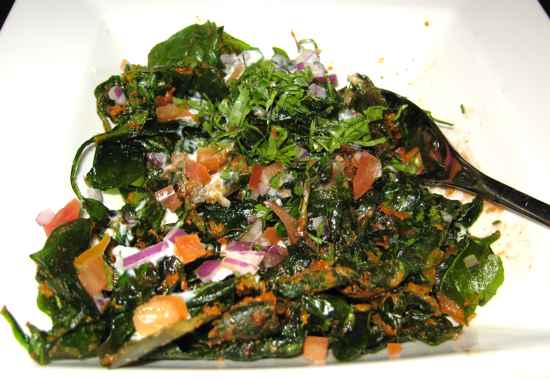 Spinach Chaat at Rasika
Thank God, the Rasika bartender was a sweetie-pie who was politeness, cheerfulness and helpfulness incarnate. The angel even charged my iPhone! 🙂
Heeding the recommendation of an SI blog reader, I ordered the Spinach Chaat ($9) along with the only Indian beer available, the drowning in debt Vijay Mallya's Kingfisher.
Winter, Summer, Autumn or Spring, you may count on SI never to  say "No" to beer or any kind of spirits. 😉
Made from Crispy Baby Spinach, Tamarind, Date Chutney and a teeny-weeny bit of Sweet Yogurt,  Spinach Chaat is a delicious appetizer.
My only reproof against the Palak Chaat is the mismatch between the high price and low quantity!
One could eat 20 Spinach Chaats (for $180) and still not feel full. Really! 🙁
Savoring the yummiliceous Palak Chaat and quaffing my beer, I spent a leisurely 30-minutes at the bar, checking for comments on the SI blog, looking at headlines on my iPhone and scanning through Rasika's pricey menu.
After getting directions to the nearest subway station (Archives Station) from the sweet bartender, I headed out into the cold again.
All in all, time well spent so far!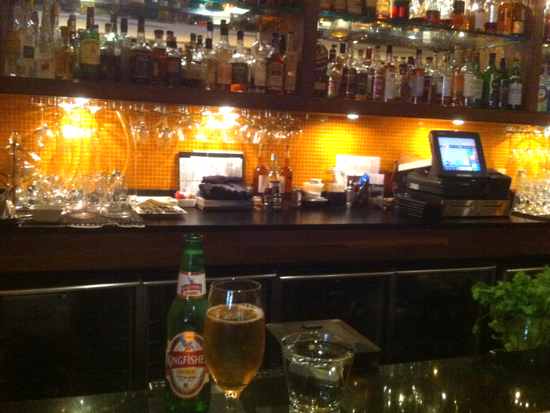 Rasika Bar with the Waiting Ice-Cold Kingfisher
Rasika – 633 D St NW Washington, DC 20004 Ph: 202-637-1222
Nearest train station – Archives (served by Green and Yellow lines)
4. 1:30PM at Capitol Tandoor & Grill.
Went into the underbelly of Washington via a deep escalator to reach the subway tracks at Archives station.
DC subway kiosks are not as user-friendly as NYC Metro kiosks. 🙁
DCites may be more more refined than Noo Yawkers but they are less smart!
Oh well, different people, different brain sizes!
Seriously, if all Blacks are endowed with monstrous dicks why can't all Noo Yawkers be blessed with bigger brains. We'll leave it to the dickheads to sort out this priapic argument!
Time to take the train to Tandoori heaven a.k.a. Capitol Hill Tandoor and Grill.
Two trains later, ended up at Capitol Tandoor & Grill on 8th St SE.
Opt for the $10.95 Lunch Buffet.
A decent spread at the steam-table during my visit (see below picture).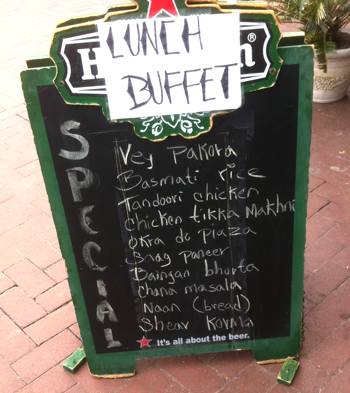 Lunch Buffet @ Capitol Tandoor & Grill
Having tried two Tandoor items (Tandoori Chicken and Chicken Tikka Makhni), I swear on Abhishek Bachchan that this place is da Seventh and Eighth heaven.
Yes, I'm even willing to swear on my pet Bollywood aunties Nithya Menon, Vimala Raman, Anushka Shetty, Vidya Balan and Richa Gangopadhyay.
Only the merciful Allah knows what they use for marination but the Tandoori items are great here.
Warning: Stay away from the hideous Naan bread!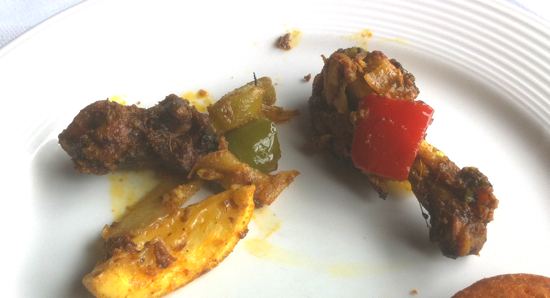 Divine Tandoori Chicken at Capitol Tandoor
Capitol Tandoor: 419 8th St SE Washington, DC 20003 Ph: 202-547-3233
Nearest train station – Eastern Market (served by Orange and Blue lines)
5.  2:35PM, back at Union Station.
Took me three trains (and two transfers) to hotfoot it back to Union Station.
Now don't you forget the food court in the lower levels.
Try some gelato at the ice cream shop and pick up some Indian food at Aditi restaurant.
My previous experiences at Aditi were unpleasant but the third time (or was it the fourth time yesterday?) was a winner!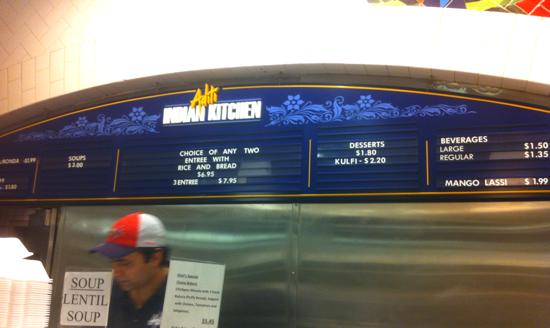 SI selected Vegetable Biryani with Okra and Spinach Chickpeas curries (total $9.10) from the Aditi steam-table.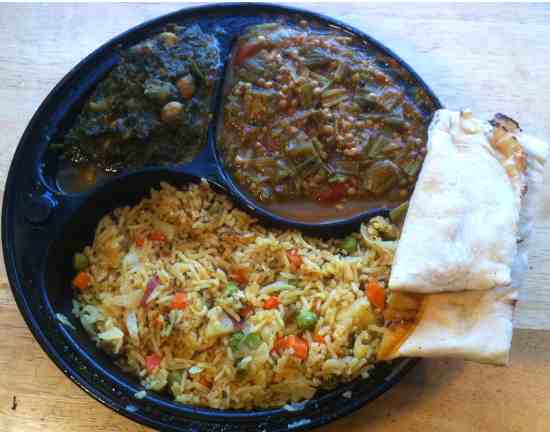 Vegetable Biryani, Okra Curry, Naan Bread and Spinach & Chickpeas
Naan bread was inhumanly awful but the rest of the food turned out to be very good.
Pretty damn good!
There're plenty of tables at the Union Station Food Court.
So you can get the food at Aditi to stay or to-go.
3PM
Time to say adios to Washington DC and return to Palookaville.
Make a promise to return soon and savor more of the Capital's famed attractions.