In less than 48 hours, Apple's iPhone, one of the most hyped and awaited gadgets of the 21st century will be launched.
The iPhone combines Apple's runaway hit iPod music player with a cell phone that includes a browser and e-mail software as well.
The quad-band GSM phone also plays video and features a 2 megapixel digital camera.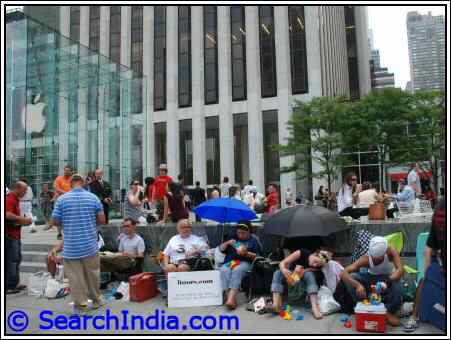 Eager fans lined up to buy iPhones at Apple store
on 5th Ave in New York City on Thursday
Reviews in Wednesday's Wall Street Journal (subscription required) by its technology guru Walter Mossberg and in the New York Times by David Pogue have given the iPhone high marks.
Although both reviews are comprehensive, we found Pogue to be more objective. You see, Mossberg has a tendency to go weak in the knees when it comes to anything Apple.
After playing with the iPhone for a couple of weeks, Pogue writes in today's NYT:
As it turns out, much of the hype and some of the criticisms are justified. The iPhone is revolutionary; it's flawed. It's substance; it's style. It does things no phone has ever done before; it lacks features found even on the most basic phones.
Even though Pogue does not spare the iPhone the criticism it deserves, he's impressed too:
But even in version 1.0, the iPhone is still the most sophisticated, outlook-changing piece of electronics to come along in years. It does so many things so well, and so pleasurably, that you tend to forgive its foibles.
The Journal's Mossberg and his colleague Katherine Boehret  are equally effusive about the iPhone:
Our verdict is that, despite some flaws and feature omissions, the iPhone is, on balance, a beautiful and breakthrough handheld computer. Its software, especially, sets a new bar for the smart-phone industry, and its clever finger-touch interface, which dispenses with a stylus and most buttons, works well, though it sometimes adds steps to common functions.
Mossberg, a long-time fan of Apple products, is clearly bowled over by the iPhone:
It feels solid and comfortable in the hand and the way it displays photos, videos and Web pages on its gorgeous screen makes other smart phones look primitive.
People have already started queuing up at Apple's stores to be among the first to get hold of this hot product when it launches on Friday evening at 6PM.
A quick glance at Craigslist (of people offering to stand in line for those too busy to do so) reveals the tremendous interest in iPhone.
In an e-mail interview with Mossberg, Apple CEO Steve Jobs focuses on the software underpinning the iPhone.
I will say that the iPhone is the most sophisticated software platform ever created for a mobile device, and that we think software features are where the action will be in the coming years.
With a sleek 3.5-inch touchscreen, the iPhone lets users make a call by tapping a name or number in their address book, a favorites list, or a call log.
iPhone will initially work only with AT&T's cell phone service. The widget comes in two versions with flash storage capacities of 4GB and 8 GB.
The 4GB version costs $499. Add $100 for the 8GB version.
What's in the iPhone box?
* iPhone
* Stereo Headset
* Dock
* Dock Connector to USB Cable
* USB Power Adapter
* Documentation
* Cleaning/polishing cloth