A pretty Indian-American girl Shivani Sud won the top prize at the prestigious Intel Science Talent Search competition in the U.S. on Tuesday.
As the grand prize winner, Shivani Sud gets a $100,000 scholarship from the Intel Foundation.
This is the first time that an Indian-American student has won the top prize, which is often referred to as the Junior Nobel Prize.
Nine other students won lesser prizes.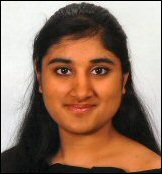 Desi Genius Shivani Sud
Shivani Sud, a 17-year-old girl from Durham (North Carolina), submitted a bioinformatics and genomics project to Intel Science Talent Search that focused on identifying stage II colon cancer patients at high risk for recurrence and the best therapeutic agents for treating their tumors.
Shivani developed an interest in cancer research after an immediate family member diagnosed with brain tumor was saved by the doctors.
This is what the Society for Science & the Public (organizers of the competition since its inception in 1942) had to say about Shivani's work:
The standard method of characterizing tumors relies on visual information, including size, degree of metastasis and microscopic structure. Shivani's 50-gene model for predicting the recurrence of colon cancer instead uses gene expression profiles to link multiple genetic events that characterize various tumor types. She created her model using two public data sets containing 125 patient samples and coupled it with clinical data to plot statistically significant survival curves. She then used her model to identify drugs that may be effective in treating stage II colon cancer.
Intel and Society for Science & the Public awarded the top 10 college scholarship awards for the Intel Science Talent Search to Shivani Sud and other winners at a black-tie banquet in Washington, D.C. on Tuesday.
Daughter of Ish and Anu Sud, Shivani is said to be first in her class of 358 at Charles E. Jordan High School and represents the students at school board meetings.
A versatile student, Shivani Sud is a Teen Court student attorney, a Durham Rescue Mission volunteer and performs classical and modern Indian dance.
Shivani Sud plans to attend Princeton or Harvard, earn an M.D./Ph.D. and make a career in research.
Seven other Desis made it to the top 40 but failed to make it to the top 10.
This year, 40 students made it to the final round out of the 1,600 U.S. high school seniors who entered the competition.
Intel Chairman Craig Barrett said about this year's winners:
These forty students show what American youth can do when they are encouraged to study math and science. In this presidential year, their stories should send a strong message that this critical foundation for innovation must be supported.
The Science Talent Search is supposedly America's oldest and most prestigious high school science competition. Science Talent Search alumni include six Nobel Laureates, three National Medal of Science winners, 10 MacArthur Foundation Fellows and two Fields Medals. Intel added sponsorship of the Science Talent Search to its Education Initiative portfolio in 1998 to promote math and science education, a growing need in the United States.
Related Links:
8 Indians among Intel Science Talent 2009 Finalists
Intel Science Talent Awards on March 11, 2008
8 Desi Geniuses Shine in Intel Science Talent Contest