Cast: Saif Ali Khan, Akshaye Khanna, Bipasha Basu, Anil Kapoor, Katrina Kaif, Sameera Reddy
Director: Abbas-Mustan
Story & Screenplay: Shiraz Ahmed
Music: Pritam
When you have too many meaningless twists in a story, the end result is an ugly twisted movie called Race.
Even Saif Ali Khan's sterling performance cannot save Race from the garbage heap of trashy Bollywood movies.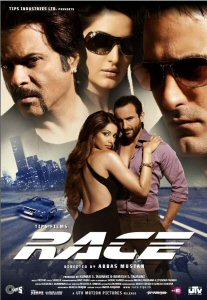 Akshaye Khanna, a fairly decent actor by Bollywood's lowly standards, seems hopelessly lost when cast in the unusual role of a scheming, forever boozing younger step-brother. Or was Akshaye petrified about being cast alongside actor extraordinaire Saif Ali Khan, who is getting better with each movie just as most of his Bollywood peers are sinking with each new film, that he just lost it?
With the exception of Saif Ali Khan's intense performance, Race is a dud in every department – story, screenplay, music and action.
The Race story is hardly unique. A wastrel of a young man Rajiv Singh (Akshaye Khanna) wants to bump off his elder brother Ranvir Singh (Saif Ali Khan) to lay his hands on a big pot of insurance money. To carry out his nefarious plot, he enlists the assistance of a fashion model Sonia (Bipasha Basu) with an ugly past.
The movie is set in South Africa, where you see Ranvir as the passionate owner of a struggling horse racing business. His personal assistant is Sophia (Katrina Kaif), whose only job for the better part of the movie seems to be handing papers to her boss to sign. And she's also supposed to be secretly in love with her boss, who blithely ignores her. Hey, we'd do the same if she were our underling!
Hell-o, is this a story?
As for Bipasha Basu and Katrina Kaif, don't get us started on these two horror shows masquerading as actresses. The cruel water torture of watching Bipasha Basu on the big screen is a punishment that has no parallel.
Is there such a paucity of talent in a country of 1.2 billion people that we, the suffering Bollywood fans around the world have to endlessly endure the pain of hideously horrible vampires like Bipasha Basu and Katrina Kaif sinking their ugly fangs into our lovely throats?
At a moment when Hollywood is dishing up unusual and impressive stories like Juno, Knocked Up, Sweeney Todd, Eastern Promises and I am Legend, our doddering Bollywood dolts like Abbas-Mustan are still dishing out sophomoric stories like Race.
Directors Abbas-Mustan leave nothing to chance. Just in case the less-than-impressive story, the less-than-thrilling action scenes and the less-than-pleasing tunes are not enough to drive you to the loony bin, in the second half of Race the directors unleash upon the suffering audience the ridiculous spectacle of a grossly overacting Anil Kapoor (as inspector Robert D'Costa) and that fat bimbo Sameera Reddy as his sidekick Mini.
In Ramayana, Lord Ram found peace and happiness after 14 years in exile; In Mahabharatha, the Pandavas had their moment in the sun after 13 years of exile. But with movies like Race, it seems like permanent exile from good movies for Bollywood fans.
Katrina Kaif, who showed some signs of acting in Welcome, has relapsed into her usual rigor mortis status in Race. In the Touch Me, Touch Me, Kiss Me, Kiss Me song/dance scene, Katrina Kaif is at her unseductive best.
By God, to describe the contortions that Katrina Kaif does on screen as dancing is like saying Pervez Musharraf is a democratically elected President. Both are Big Lies. Zeenat Aman danced better on dope in Hare Krishna, Hare Ram.
Both Katrina Kaif and Bipasha Basu turn in such disgustingly pathetic performances that they would hands down win the joint crown in the Bollywood Kingdom of Misfits.
When protean ambition collides with limited abilities, the sad outcome for Bollywood fans is the ugly trinity of Bipasha Basu, Katrina Kaif and Sameera Reddy.
Bad Karma, Bad Karma.
If you are looking for breathtaking action scenes in Race, just fuggedaboutit. There ain't none.
With their trite dialogs and bad acting, the duo of Anil Kapoor and Sameera Reddy turn what is supposed to be comical detour into a farcical disaster.
Like most clueless Bollywood directors, Abbas-Mustan try to take the easy way out in Race – of filming the movie in a foreign country (South Africa in this case) in illusory hopes of bamboozling the audience into believing there's more substance than fluff in this 2hrs-40min ordeal.
Abbas-Mustan belong to the school of movie-making whose credo is that no senses (eyes, ears etc) of Bollywood fans must be left unassaulted. And so with their accomplice in crime Pritam (music director), they commence their ferocious assault on our ear-drums.
Horridly horrible music compounds the overall disappointment of Race. Not a single song left us on a high.
In Race, it's hard to figure out which is the worst offender – the relentless assault on our aesthetic sensibilities, the merciless assault on the eardrums or the senseless assault on the eyeballs.
No surprise then that Race turns out to be a movie with all lows and no highs.
At the Regal Cinemas in Burlington (New Jersey), audience disinterest in Race was clearly evident in people frequently walking in and out of the movie hall.
Many summers ago, we watched a fine movie called Baazigar directed by Abbas-Mustan. But that must have been a different Abbas-Mustan because all that the bozo directors of Race manage to accomplish is a race to the bottom of the Bollywood cesspool.
Watch this stinker of a Race only if you have time and money to burn.