If Gayathri Sreekanth undertakes her ophthalmological work with the same callous carelessness as her shoddy biography of Tamil film star Rajinikanth (The Name is Rajinikanth), there must be a lot of unfortunate souls moving about in Chennai with blurred vision, or worse, without any vision.
Besides being a pathetic attempt at hagiography, almost every page in the book The Name is Rajinikanth is riddled with spelling errors, grammatical errors, factual errors or arguments that are sheer nonsense.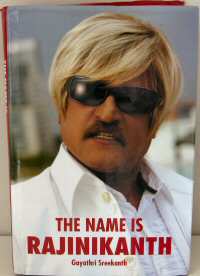 As every page in this so-called biography amply attests, Gayathri Sreekanth is a literary bimbette who has no more than a passing acquaintance with the English language.
If the task of writing in English was too heavy a cross for this dolt to bear, she should have stuck to Tamil and got the book translated.
Great biographies by authors like Carl Sandburg (Abraham Lincoln), William Manchester (Winston Churchill) and David McCullough (Harry Truman) firmly set their subjects in an age and then weave a fine tale that brings both the age and the individual to life.
Neither Rajinikanth nor his milieu, be it the superstar's early days in Bangalore, his later years in neighboring Chennai or the Tamil movie industry, come to life in Gayathri Sreekanth's disgrace of a book.
What a shame! The Tamil movie superstar certainly deserves better than this incompetent twit of an author.
This shallowly amateurish book seems to have been written with the active cooperation of Rajinikanth, his wife Latha and the star's friends and acquaintances in the film industry and outside.
What a pity. Gayathri Sreekanth wasted their time and ours with this wretched work because she is unable to put together the facts she has collected into a cohesive and interesting story.
There is a lot to be vexed with in this book:
* The book lacks dates for most of the key events in Rajinikanth's life, a glaring omission.
* The photos do not have captions so you have no idea who the folks in the different pictures are (i.e. other than Rajinikanth).
* The book lacks an index for those wanting to flip through different facets of Rajinikanth's life.
* The narrative style of chapters alternating between the past and subsequent years is a technique that only able and competent writers are good at. Given her very limited talents, Gayathri Sreekanth would have done better to follow a chronological sequence starting with Rajinikanth's birth (or even earlier, ideally) and slowly followed his progress leading up to his present superstar status.
* The author's use of direct speech and the sophomoric way she sets about recreating dialogs of events that transpired decades ago is downright jarring.
* And then there are the errors. For instance, Rajinikanth's last blockbuster movie Shivaji was not released on April 14, 2007 (p.366). Shivaji was released on June 15, 2007. In an earlier section, the author writes Aishwarya when she means Rajinikanth's younger daughter Soundarya of Ocher Studios (p.284).
* Looking for anything remotely resembling grammar in this book? Just fuggedabout it. In one egregious instance, Vijay Amritraj (one-time Indian tennis player) becomes it (p.336).
* Spellings are atrociously bad. As if that were not bad enough, the same words are spelled in a myriad ways. Take for example, the Rajinikanth movie Engayo Ketta Kural. It is spelled Engayo Kekka Kural on P.326,  Engayo Kella Kural on the same page and Enkeyo Ketta Kural on P.368. Tamil comedienne Manorama becomes Mano Rama (p.341). And the list goes on ad nauseum, ad infinitum.
What a dreary saga of confusion and incompetence.
Nonsensical Arguments
This ass of an author makes plenty of asinine arguments. Take for instance, her point about Rajinikanth's forgettable Hollywood adventure The Blood Stone. She writes hilariously:
The movie was not released with publicity in the US, hence the westerners gave it a cold shoulder. They had, indeed lost out on Rajinikanth's future Hollywood runs. Westerners' loss was India's gain.

The movie had average success in India also. The fans were glad that Thalaivar was making his debut in Hollywood. Indian actors found it difficult to make it to Hollywood but the superstar from regional cinema had made it. Only the Americans were too pre-occupied with themselves to realize the actor's potential [p.336].
When even Black Americans have a hard time making it in Hollywood, where is the question of a Black Indian like Rajinikanth making any headway in English films. We may love our Rajinikanth but the Americans would have laughed him out of the industry.
Rajinikanth Mystique
The immense popularity of Rajinikanth defies explanation.
Dark skinned in a nation that worships fair color, with a face that can only charitably be described as ordinary and acting skills that are at best average, Rajinikanth's rise to superstardom is to use a Churchillian phrase a riddle, wrapped in a mystery, inside an enigma.
The basic facts about Rajinikanth are well known. Born into a Marathi family in the neighboring state of Karnataka, Rajinikanth (real name – Shivaji Rao Gaekwad) was a bus conductor who moved to Chennai (then called Madras), joined the film institute and was discovered by director K.Balachandar. And the rest is history.
Rajini Style
Often, Rajinikanth's success is attributed to the unique style of the superstar. You know, the "punch dialogs" delivered by him in the movie, the cigarette-flipping and so forth.
Writing in the Times of India (23 June, 2007), Indian academic MSS Pandian had this to say on Rajinikanth's movies:
Staccato-style dialogue delivery, punch lines which repeat through the film as a refrain, inimitable mannerisms which change from film to film that has earned him the sobriquet 'style mannan' ('king of styles'), constant self-parodying and clowning, and outlandish costumes are the unique hallmarks of his films.
In Tamil Nadu (the state where Rajinikanth has made his home for the last several decades), there is a risque saying to explain someone's inexplicable good fortune – Avanukku anga mache irakku da (a reference to the special powers possessed by men with a mole on their schlongs). For the record, we haven't checked the moles on Rajinikanth's anatomy but, hey, that could well be the secret of the superstar's success. All ye aspiring Tamil superstars, before you look up at the skies look down first. Ajith, Surya, Vijay, are you listening?
Colorful Life
Like the lives of those who have reached great heights, Rajinikanth's too has been quite colorful.
Although now supposedly devoted to spiritual pursuits, Rajinikanth behaved like a swine in his younger days and caused much distress and grief to those around him be it family, friends or others unfortunate enough to be in his orbit.
The book mentions a few unsavory incidents like slapping an airport store assistant and threatening to whip him with a belt for not stocking soda and kicking a customer in an arrack shop and screaming at a film unit hand for daring to look at Rajinikanth in the eye.
Sure, Gayathri Sreekanth has done a fair bit of work in cobbling together an assorted set of facts. But she deserves as much gratitude as the washerman's ass for toiling daily in bearing the heap of clothes on its back.
The definitive biography of Rajinikanth remains a subject to be tackled by a more competent writer than Gayathri Sreekanth.
The Name is Rajinikanth
by Gayathri Sreekanth
(New Delhi: Om Books International, 2008)
Rs 495.00