Sarkar Raj Review – Worth Missing
Even the presence of three members of Bollywood's first family – the Bachchans – couldn't save their pathetic new movie Sarkar Raj from a ho-hum reception at the U.S. box office.
Despite the presence of Amitabh Bachchan, Abhishek Bachchan and Aishwarya Rai-Bachchan, Sarkar Raj grossed a mere $642,523 in its opening weekend (June 6-8, 2008) at the U.S. box office, which is less than even Ajay Devgan's U Me Aur Hum.
Released in 70 theaters, Sarkar Raj opened at No-11 at the U.S. box office and had an average gross of $9,178.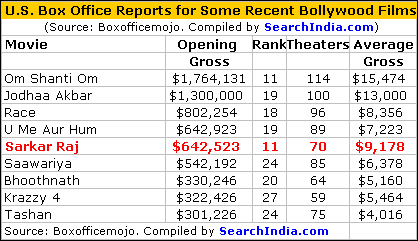 Sarkar Raj is the second Bollywood movie featuring Amitabh Bachchan in recent weeks that has failed to resonate well at the box office.  Remember, Bhoothnath was a disaster at the U.S. box office,  grossing a pitiful $330,246 in its opening weekend (May 9-11, 2008).
Here's an excerpt from SearchIndia.com's review of Sarkar Raj:
In his latest work  Sarkar Raj, the dependably stupid Ram Gopal Varma once again delivers the goods – yet another boring dud.

Sarkar Raj featuring Bollywood's first family (Amitabh Bachchan, Aishwarya Rai and Abhishek Bachchan) is a mediocre sequel to Ram Gopal Varma's unimpressive Godfather-inspired 2005 gangster flick Sarkar.

Even after two decades in the film industry and 20 films under his belt, Sarkar Raj director Ram Gopal Varma is all at sea in the Bollywood ocean, rowing his way without the tiniest paddle of talent.
For decades, Bollywood film-makers have been bamboozling Indian movie-goers with pretty faces and shooting in exotic locales but paid scant attention to the story or the acting capabilities of the stars.
With one Bollywood movie after movie faring miserably at the box office lately, hopefully things will change.