Kismat Konnection – Dud at Box Office
Making crappy movies like Kismat Konnection is a sin.
Reviewing such crappy movies – and giving them undeserved publicity – is a greater sin.
Watching Kismat Konnection less than 24 hours after watching The Dark Knight featuring the peerless Heath Ledger as the Joker is nothing but Karmic punishment for all our past sins.
Must be our bad Kismet.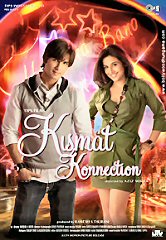 There is nothing in Kismat Konnection that lifts it out of the usual Bollywood trashy mold.
The story is banal, the acting pedestrian, the music mediocre and overall Kismat Konnection is a piece of crap that has no justification for ever seeing the light of day.
Kismat Konnection is directed by Aziz Mirza, whose sole claim to fame is that he owns the trademark on mediocre Bollywood films.
The movie features Shahid Kapoor as an young architect Raj Malhotra in Toronto desperate for that big break and Vidya Balan as a local activist Priya striving to prevent the closure of a community center sheltering some old people.
Through sheer Kismet, the paths of Raj Malhotra and Priya keep crossing. Although initially iritated by her, Raj wants her around when he discovers that she is a lucky mascot for him. You see, things start to go well for Raj Malhotra on the career front whenever Priya happens to be around.
Alas the audience can't say the same….because things never go well for them in this piece of trash.
Are there no other construction companies in Canada not involving Indians because Raj is forever climbing up the stairs of Batra & Gill? We are also tired of seeing Shahid Kapoor with a cross-shoulder bag in movie after movie.
Both Shahid Kapoor and Vidya Balan sleep-walk through this lengthy bore. It seems like everyone else involved with the movie does the same.
Shahid Kapoor's last movie Jab We Met managed to strike a chord with the audience because of the music (our favorite song was Yeh Ishq Hai), the fine chemistry between Shahid and his former girlfriend Kareena Kapoor and decent acting by the lead pair.
Kismat Konnection has nothing going for it…virtually zero chemistry between Vidya Balan and Shahid Kapoor.
In one of the crucial scenes toward the end of Kismat Konnection – the confrontation between Raj and Priya over the community center  – both Shahid Kapoor and Vidya Balan completely fail to rise to the occasion.
The once-pretty but now an old-hag Juhi Chawla is cast as a fortune-teller in Kismat Konnection. Another woman for whom acting is a foreign concept even after 22 years in the movie business.
Music is less than average with the exception of the Aai Paapi number.
We strongly recommend that unless you possess a hardcore masochistic streak or want to throw away your money, show Kismat Konnection, Shahid Kapoor and Vidya Balan the middle finger. And go watch the latest Batman film Dark Knight.
Seldom are viewers granted the opportunity of watching as fine an actor as Heath Ledger on the Big Screen.