Bachna Ae Haseeno Plunges 61% at Box Office
Yash Raj Films' latest crap-show Bachna Ae Haseeno has fared badly at the U.S. box office with one of the lowest average gross per theatre for a recent Bollywood movie.
The much hyped movie featuring Ranbir Kapoor, Deepika Padukone, Bipasha Basu and Minissha Lamba brought in a piffling $322,431 in its opening weekend (August 15-17, 2008).
Even Bhoothnath did better than Bachna Ae Haseeno in its opening weekend ($330,246 for Bhoothnath  vs $322,431 for Bachna Ae Haseeno).
Bachna Ae Haseeno came in at No-23 in the U.S. box office ranking for the August 15-17 opening weekend.
This junk movie opened in 71 theatres and had an average gross of $4,541.
Here's how Bachna Ae Haseeno fared in the U.S. as compared to some other prominent Bollywood movies in the opening weekend: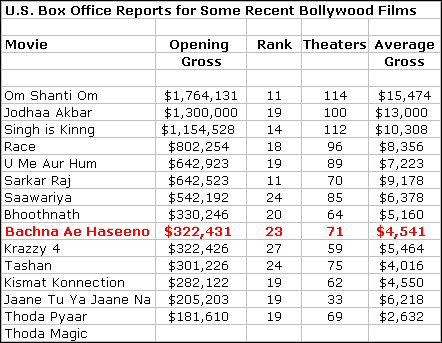 Bachna Ae Haseeno's average per theatre of $4,541 is worse than Krazzy 4, Kismat Konnection and even Jaane Tu Ya Jaane Na.
As SearchIndia.com wrote the other day in the review of this piece of garbage a.k.a. Bachna Ae Haseeno:
Two hours and 30 minutes of sheer torture is the heavy price you pay for the sin of daring to watch this mediocre film.

In Bachna Ae Haseeno, Yash Raj set out to create Dilwale Dulhania Le Jayenge lite but ended up with Bhooth Aur Mein major.
Yash Raj has no one to blame but itself for its current plight.
Producing utter garbage movies lately with stories that are downright inane and stars who can't act, Yash Raj Films has been treating the audience with contempt.
And guess what, the audience is returning the favor to Yash Raj by showing their middle finger.
For Ranbir Kapoor, Bachna Ae Haseeno is the second disaster in a row. His first film Saawariya was also a dud at the box office.