Frozen River (2008)
Cast – Melissa Leo, Misty Upham
Directed by – Courtney Hunt
Playing as of 8/22/2008 at: New York City (Angelika), Philadelphia (Ritz Bourse) and Los Angeles (Laemmle's Playhouse 7, Pasadena & Laemmle's Town Center 5, Encino)
Life is a hard road for much of humanity.
Even in USA, the so called richest country, it's the privileged few that enjoy the trappings of comfort and stability that money affords.
For the rest, life's forever a grind.
And that's the way it's always been for all of recorded history, as far as we can tell.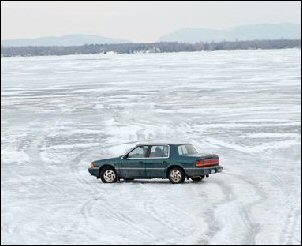 Frozen River is the moving story of a poor single woman Ray Eddy (Melissa Leo) living in a trailer home who is forced to make hard choices for the sake of her family.
A beautiful movie set in the bleak icy landscape of upstate New York along the Canadian border, Frozen River is a reminder that you don't need famous stars, exotic locales or a gazillion dollars to make a fine movie (One of the tragedies of Bollywood filmmakers is that they routinely hire some big-name dodos like Abhishek Bachchan or Ajith, travel to foreign locales, spend a fortune and then bring us crap like Singh is Kinng, Bachna Ae Haseeno, Jhoom Barabar Jhoom, Billa et al).
As Frozen River proves, all you need to deliver an entertaining movie is a gripping story, a bunch of talented actors and a director with an obsessive passion for quality at the helm.
After the drivel of recent Bollywood films, Frozen River is the kind of movie that restores your faith in movies as a medium of entertainment.
Christmas is drawing near and Ray's family is in dire straits. Her gambling addict husband has vanished taking with him the down payment money set aside for a doublewide (a type of pre-built home).
And popcorn and soda are what Ray and her two kids are subsisting on.
So what's a poor woman with two young boys and a low-paying job at a dollar store to do?
Do what desperate people usually do – turn to crime in hopes of making a quick buck.
A desperate Ray joins up with a local Mohawk woman Lila (Misty Upham) with a one-year-old son to smuggle illegal Chinese and Pakistani immigrants into the U.S. from Canada in the trunk of her car.
When Ray initially demurs about transporting illegal immigrants across the border in the trunk of her car, Lila responds matter of factly:
There is no border here. This is free trade between nations.
In Frozen River, Melissa Leo and Misty Upham have turned in amazing performances as young single mothers living on the financial edge. Make that tottering on the financial edge.
The story of Ray and Lila is a microcosm of life for tens of millions across America today. And it's getting worse.
One of the other beauties of Frozen River is that there's not a single wasted scene. Crisply edited with a tight script, Frozen River is the first feature film from director Courtney Hunt, a Columbia University Film Division alumnus.
Hunt is also the writer of this classy movie.
Apparently, the movie was made against heavy odds and on a very low budget. It took four years to make Frozen River.
Is it any surprise that Frozen River has already won critical acclaim – Grand Jury Prize for Dramatic Film at the 2008 Sundance Film Festival, Audience Award at Provincetown International Film Festival, Writer/Director Award at Nantucket Film Festival and Women in Cinema Lena Sharpe Award at the Seattle International Film Festival.
Since Frozen River is a real beauty of a movie, it's unlikely to be shown in India, the mecca for third-rate garbage like Singh is Kinng, God Tussi Great Ho, Kuruvi and Satyam. You just have to wait for the DVD.