By God, how we hated this dungheap of a Tamil movie.
Only God knows how much we loved the music in Kadhalan.
Released in 1994, Kadhalan is a landmark Tamil movie that shows A.R.Rahman at the Himalayan heights of his career.
Truth be said but for Rahman's music and Prabhu Deva's dances, Kadhalan would have been long forgotten and consigned to the dustheap of ignominous Tamil movies like the recent fiascos Satyam, Kuruvi or Azhagiya Tamil Magan.
So, what better way to start or end your day than by listening to the classic Mukkala Mukkala song/dance by clicking on the below image.
Go ahead, just click on the below image of the ugly Prabhu Deva and the big-bosomed Nagma for a few moments of heavenly bliss.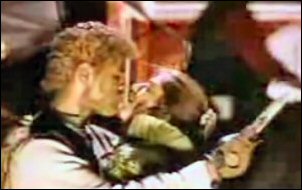 Prabhu Deva & Nagma in Mukkala Mukkabala
(Source: YouTube)
Oh, no. Non pareil though it was, we were not enamored of just the Mukkala, Mukkabala song in Kadhalan.
There's the lovely Kadallikku…, Urvasi Urvasi, Ennavale, Pettai Rap and more.
Life's short, and who knows when your clock will stop. So stop whatever you are doing and watch/listen to these timeless classics by clicking any of the above links or the image.
As good as the songs were in Kadhalan, the movie itself is a piece of shit. So bad indeed that we quickly reached for the bottle of cheap Jacquin's ginger brandy we keep handy for occasions when we crave a quick high to forget our misery.
Both Prabhu Deva and Nagma are appallingly bad actors. No question about it.
Nagma, of course, represents the nadir of the acting profession, an abomination. If the devil could act, he would be a shade better than this grotesque caricature a.k.a. Nagma. The dregs of the lees just like her half-sister Jyothika (from whose sadistic clutches we were fortuitously saved, thanks to her doting beau Surya).
But for her Namitaesque bazookas, Preita Zintian booty, Sridevilish thighs and a fair complexion so beloved by the black-as-coal Tamils, the ugly as Neha Dhupia Nagma wouldn't merit a second glance. Never.
Prabhu Deva wouldn't have girls swooning over him either. So in a sense, they are the made-for-each-other beauty oops beast-and-beast couple.
For all his compassion deficit disorder, director Shankar still made history with this ugly pair of Prabhu Deva and Nagma thanks to Rahman. The movie went on to become a phenomenal blockbuster with people even north of the Vindhyas humming the Mukkala Mukkabala tunes.
Kadhalan's story is hardly the stuff that legends are made of. Sruti (Nagma) is the daughter of a crooked and murderous governor Karkala Sathyanarayana (Girish Karnad) while Prabhu (Prabhu Deva) is the son of a lowly police head constable Katheerasan (S.P.Balasubramaniam).
How their love triumphs over all adversity from the venal politician Karkala Sathyanarayana constitutes much of this crappy movie.
A gratuitous insult to the intelligence of the Tamil film audience, the Vadivelu comedy track in Kadhalan is absolute garbage.
The nauseous picturization of the Pettai Rap song featuring Vadivelu, Prabhu Deva and a large herd of human-like creatures (including some Caucasians) was a traumatic experience that'll haunt us, surely as long as breath exists in our body.
Some of the scenes in Kadhalan go far beyond nonsense. For instance, when Prabhu's father jumps into a garbage van to look for a small hook belonging to his son's girlfriend or when the dog brings the prattle to the beach in the second half.
The late Raghuvaran's fans will be glad to see a much younger version of this talented actor as the villain Malli before the descent into the hell of alcohol and drugs ended his life prematurely.
The stunt/fight scenes in Kadhalan are beyond amateurish – they are freakishly comical, par for the course in Tamil movies.
For all its inadequacies, and there are plenty in this movie, Kadhalan stands out for the majestic beauty of its music. Yes, Kadhalan's songs will continue to thrill Tamil movie fans for generations to come.
Oscillating between the bliss of its music and the torment of a shopworn story/atrocious acting, Kadhalan is a strange beast – it can't rise any higher or sink any lower.