Abhishek Bachchan Sets New Pathetic Record
So, you thought Love Story 2050 was ugly?
And you thought Sarkar Raj was lousy?
You thought God Tussi Great Ho was crappy?
Well, count your blessings if you ain't seen this pathetic piece of shit called Drona.
Compared to the nightmare that Drona represents, Love Story 2050, Sarkar Raj and every other ugly Bollywood movie ever made is a Oscar-worthy masterpiece.
Take it from us, this duffer called Abhishek Bachchan can't act.
Yes, Abhishek Bachchan can't score even an F in acting. Period.
Somebody, please unleash Charles Bronson or Dr Jack Kevorkian on this jackass.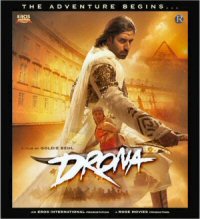 And Drona's bozo of a director Goldie Behl, who also claims responsibility for this asinine story, knows less about movie-making than the dumbest spotboy on a Tamil movie set.
Why do we believe Goldie Behl is the patron saint of all jackasses? Because the Drona story is so utterly unconvincing and unappealing, the settings are so amateurish, the music is so pedestrian, stunt scenes are downright mediocre and the overall effect of watching Drona is of walking into a room full of Down's Syndrome cases.
You say special effects in Drona – We say what special effects? We didn't see any.
Besides its hopelessly inane story, the most striking thing about Drona is an expressionless Abhishek Bachchan, who zombie-like sleepwalks through the entire movie.
Not once does Abhisekh's character Aditya show any sign of life – not when his mother Queen Jayati Devi (Jaya Bachchan) turns into a statue, not when he's told about his messianic purpose on Earth, not when the evil demon tricks him in the sword fight, not when he's singing with the white boys and girls, not when his aunt taunts him. Never.
In Drona, Abhishek is a slow-motion walking and talking advertisement for rigor mortis.
Considering that Abhishek Bachhan's mission is to save the universe from impending destruction at the hands of an evil demon Riz Raizada (Kay Kay Menon), why then does Abhishek's character Aditya talk and walk like time hangs heavily on him. Hey, this is a Twenty20 game in Mumbai not a five-day test match at Lord's.
Abhishek Bachchan's accomplices in this torture drama are Bollywood Incompetence Queen Priyanka Chopra and Kay Kay Menon, who seems to have completely lost his marbles.
Priyanka Chopra is a ghastly apparition under any circumstance but to see this dodo fight in Drona is a torture worthy of Ivan the Terrible.
Kay Kay Menon's performance in Black Friday as the police officer Rakesh Maria out to quickly nab the bombing suspects impressed us a lot. Suffice to say, Kay Kay's cartoon-like performance in Drona depressed us a lot.
Notwithstanding what you may have heard, Kay Kay Menon is not the villain of Drona. Au contraire, considering his clownish antics and acting in the movie, he's the buffoon – Johnny Lever, Asrani, Rajpal Yadav, Vivek and Vadivelu rolled in one.
Drona opens with Aditya (Abhishek Bachchan) working in a grocery store in some foreign land and stoically enduring the abuses of his aunt and cousin Rajesh. Little does the zombie oops Aditya realize that he's actually more than a grocery store clerk – Ha ha, he's the protector not just of Planet Earth but the universe itself against dark elements like the magician Riz Raizada (Kay Kay Menon). He's the Drona. Ha ha, again.
And playing his bodyguard – of all characters – is the fatuous freako actress Priyanka Chopra.
In his quest for immortality, Raizada is obsessed with getting the chalice of nectar that the gods had hidden on Earth after churning the ocean in the distant past.
Only one man can lead the evil Raizada to the nectar and immortality – Drona. But only one man stands between Raizada and immortality – Drona.
Music? Hell, Drona has no such thing. Every single number in Drona filled us with the anguish at the depths Bollywood has fallen.
Whether it's the first song Khushi (showing Abhishekh going through the motions of dancing), Nanhe Nanhe (picturized on Jaya Bachchan in her dotage) or the hideous Oop, Oop Cha featuring Priyanka Chopra dancing like the ugly monster Medusa in heat, Drona's music is in one word drivel.
In Drona, the troika of Abhishek Bachchan, Priyanka Chopra and Kay Kay Menon under the supervision of the nincompoop Goldie Behl has delivered an ugly monstrosity that achieves the odious distinction of being worse than Love Story 2050, the Gold Standard of ugly Bollywood movies.
If you have any love for yourself, if you have any value for your time, if you have any respect for your hard-earned money, then spare your family, friends and yourself the trauma of watching this Black Plague a.k.a Drona.
Related Stories:
Abhishek Bachchan Sets New Pathetic Record
Drona Bomb Explodes in Eros' Face
Drona – Box Office Disaster; Abhishek's Waterloo?
Critics Thrash Flop King Abhishek Bachchan's Drona