You can bet your last dime that even as the world is ending, someone somewhere will be making a Western movie.
Such is the hold of this genre that 105 years after the first Western movie debuted, Hollywood still continues to churn out Westerns to feed the insatiable appetite of movie-goers nostalgic for an era that perhaps existed more in the mind than on the dusty ground.
Appaloosa (Viggo Mortensen, Ed Harris) is the latest movie to join the long list of Westerns.
As fans of the talented actor Viggo Mortensen (who delighted us in Eastern Promises), it was a no brainer that we had to see Appaloosa.
So off we dashed to the Regal Multiplex for our Mortensen fix.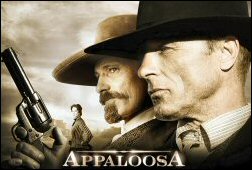 Set in New Mexico (1882) after the Civil War, Appaloosa (directed by Ed Harris) delights on many fronts.
Visually appealing with a decent story and strong performances by Mortensen, Harris and Rene Zellweger, Appaloosa is essentially the story of two friends Virgil Cole (Ed Harris) and the laconic Everett Hitch (Viggo Mortensen) who drift into a small town called Appaloosa under the sway of a notorious thug, the rancher Randall Bragg (Jeremy Irons) who has killed the previous marshal.
Cole and his sidekick Hitch, who previously served in the army but quit because being "a soldier does not allow for expansion of the soul", have together been keeping the peace in various towns for a dozen years.
So when the two men ride into Appaloosa, they are eagerly welcomed by the local bigwigs keen on ridding the town of the brutal rancher Randall Bragg and his crew of outlaws, who are terrorizing the local people and businessmen.
As one of the town elders tells Cole and Harris in a saloon:
We want our town back and we're ready to pay your price.
No sooner do Cole and Hitch unsaddle their horses and settle into their new positions, than the confrontation with Bragg and his men starts.
A confrontation that takes up much of the screen time for the rest of this enjoyable movie.
What's a Western without some romance, eh?
So, there comes Allie French (Ren ©e Zellweger), a lady of indeterminate age, uncertain morals, little money and possessing no more than the ability to play the piano.
Barely has the steam locomotive train that brought Allie to Appaloosa left the town, before Cole is drawn to her.
As the lawmen's conflict with the outlaw Bragg escalates, Allie is also drawn into it.
Mortensen, Harris and Zellweger are solid actors and a pleasure to watch. What a shame that most of our Bollywood and Kollywood stars are completely foreign to the basics of acting, let alone the nuances.
Mortensen is a remarkable actor and does more with his nods, shakes, eyes and other non-spoken gestures than Abhishek Bachchan does with his mouth agape and limbs flailing.
Do you think our Bollywood bozos will ever realize that acting is a multi-layered exercise that goes beyond looking tough and blabbering some nonsense? We remain skeptical although we must say that some of our yesteryear actors like Jaya Bhaduri, Sanjeev Kumar and Rajesh Khanna were more expressive than the current bunch of imbeciles.
In Appaloosa, the landscape is harsh and the camera does its job well highlighting the rugged terrain – of the land, the people and the times.
Appaloosa is not a very fast-paced movie but trots along at a energetic pace.
N.B. – Just in case you are curious, Appaloosa is based on the novel by Robert B.Parker.