We've always been more fascinated with Apple than any other tech company.
More than Microsoft and even more than Google, Apple has so inveigled itself into our mindspace that we went and got ourselves an iPhone in July a few months after we purchased a $49 iPod.
Maybe because Apple CEO and co-founder Steve Jobs has been on the mountaintop as well as down on the valley floor (after he was ousted by John Sculley), Apple is a different breed of company today than it was in its earlier avatar.
Experience (and the scars they leave behind) matures a man. Well, at least most men (with the exceptions of dodos like Dubya)

Coming back to the present, no matter the economic downturn Apple's business is going gangbusters.
In a little over three months, Apple customers have downloaded 200 million applications from Apple's App Store. The apps can be played on both the iPhones and the iPod touch multimedia devices.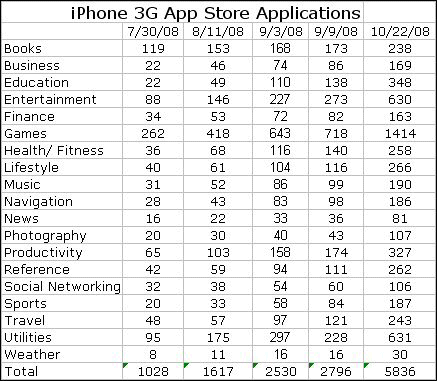 As Jobs crowed on Apple's earnings call Tuesday:
Competitors are scrambling to copy our App Store but it's not as easy as it looks and we are far along in creating the virtuous cycle of cool applications begetting more iPhone sales, thereby creating an even larger market which will attract even more iPhone software development. It is clear that customers are now attracted to iPhone not only for its amazing functionality and revolutionary multi-touch user interface but also for its unique ability to let users easily purchase, download, and use thousands of different applications, ranging from free games to financial planning and health management — all of this in only 102 days.
Although Google's first Android-powered G1 phone has debuted to generally positive reviews, we remain skeptical that it will make much headway against the iPhone.
The story is the same with the iPods, the juggernaut of digital media devices.
Just look at the numbers. They tell the story better than any chronicler:
* In the latest quarter alone (ended September 27, 2008), Apple sold 6.892 million iPhones (compared to 1.119 million units in the same quarter a year ago).
* Apple has already sold 10 million iPhones in 2008 alone, two months ahead of target.
* In revenue terms, Apple is the third largest mobile phone company and ahead of RIM (Blackberry) in units this recent quarter.
* Over 11 million units of iPods were sold in Apple's fiscal fourth quarter alone. How many units of the Zune player did Microsoft sell in its last quarter? Does anyone even care? It's probably insignificant.
* Mac shipments were up 21% to 2.61 million units.
* Apple's iTunes store has 65 million customer accounts and a music catalog of 8.5 million titles including Hindi, Tamil, Kannada and Telugu songs.
Apple is selling the iPhone in 51 countries and hopes to offer them in 70 countries by the end of this year.
So that should mean more iPhone sales leading to more app downloads leading to more applications for the device. Aha, there you have the virtuous cycle.
With $25 billion in the bank, Apple could even slash prices further hurting RIM and other vendors badly.
Apple remains the company to watch in the digital media space.