Zeroes Oops Heroes Fails to Sizzle at Box Office
What a bloody waste of time.
What a dreadful waste of money ($9 for our ticket not to mention the crores down the drain on the film).
What an awful waste of film-stock.
Directed by Samir Karnick, Heroes' first claim to infamy is the coming together of four of the most incompetent actors in Bollywood in a single movie – Salman Khan, Sohail Khan, Sunny Deol and Bobby Deol.
Second, Heroes plays a cruel trick on viewers by fobbing off a bad recruitment ad for the Indian armed forces as a Hindi movie.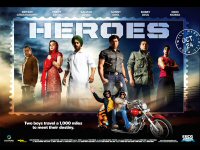 Story
Two young friends Sammy (Sohail Khan) and Nawab Saab (Vatsal Sheth) set off on a motorbike trip to make a movie on why you should not join the Indian armed forces in order to get their degree in film-making.
The friends meet the families of three soldiers – Balkar Singh (Salman Khan), Dhananjay Shergill (Bobby Deol) and Sahil Naqvi (Dino Morea) who gave their lives defending the nation.
With each meeting, we get boring vignettes of the martyrs and the dear ones they left behind – Balkar's widow Kuljeet Kaur (Preity Zinta) and adorable young son (??), Dhananjay's crippled brother Vikram Shergill (Sunny Deol) and Sahil's angry father Dr.Naqvi (Mithun Chakravorty).
Such is the slender thread on which this dud of a movie hangs.
Acting
As the wise ones say, Garbage in = Garbage out.
So what can you really expect when you tie together Salman Khan, Sohail Khan, Sunny Deol and Bobby Deol in a single movie – what else but a  Molotov cocktail of garbage that explodes in the hapless viewers' faces.
Will somebody please euthanize these four gadhas. Their time's up and they're outstaying their welcome in Bollywood.
With their pathetic performances in movie after movie, the two Khans and the two Deols have inflicted more harm on the Indian psyche than any other invaders, marauders and criminals in the country's past or the present. All four should have been put to pasture aeons ago but the leeches steadfastly refuse to leave and linger on to torment and suck the blood from millions of Bollywood fans.
The sight of a crippled Sunny Deol fighting a whole gang of ruffians in a bar from his wheelchair is enough to send any sane individual into a wheelchair.
Sunny Deol can't act when he is standing straight. To put this bozo in a wheelchair and ask him to act is like feeding a chimp some liquor and then asking it to explain the Theory of Relativity. Sunny Deol even messed up a simple scene which just required him to describe how he lost his legs.
Mercifully for viewers, his younger – and lesser talented – brother Bobby Deol has a very brief role in Heroes, a cameo as Captain Dhanjay Shergill.
Silly and constipated – that's how Salman Khan looks and acts as the soldier Balkar Singh. Akshay Kumar was light years better as a Sikh in that crappy movie Singh is Kinng.
The less said of the third soldier Dino Morea or his angry "father" Mithun Chakravorty the better.
If there are any saving graces in Heroes, it's in the aging Preity Zinta, who does a decent job as the man of the family after her husband's death.
Of all the song-dances in Heroes, Makhana featuring the Deol dodos inflicts the most agony. Both Deols just can't dance just as they can't act. What they are doing in Bollywood is anyone's guess.
Skip Heroes by all means.
There are better things to do this Diwali than watching a worse than sophomoric piece of crap like Heroes.