Evidently even that kid Genelia is a bigger draw at the box office than Tamil film star and non-actor par excellence Ajith Kumar.
One of the worst Tamil movies in living memory, the Ultimate Kuppa Aegan featuring that most incompetent actor Ajith Kumar, has fared miserably at the U.K. box office.
To Ajith's everlasting shame, Aegan had a lower average at the U.K. box office than even the Genelia-Jayam Ravi film Santosh Subramaniam. That nadir will be hard to match, even by Ajith's disgraceful standards.
Look at the numbers below for how Aegan has fared at the U.K. box office compared to a few other Tamil movies in the opening weekend: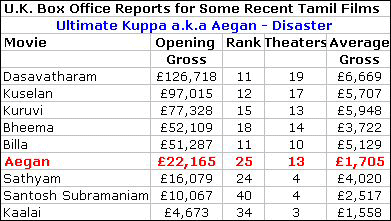 Source: UK Film Council
As the above numbers attest, Aegan's performance in the U.K. is pathetic compared to even duds like Kuruvi, Bheema and Kuselan. But then Ajith is a lesser star, an even lesser actor but for sure a bigger dud compared to Vijay, Vikram and Rajnikanth.
In Tamil Nadu, they have a popular word called waste to describe anything useless – Waste, what an appropriate word to describe Ajith's acting capabilities and his latest piece of shit Aegan.
As SearchIndia.com said in its review of Aegan:
It's a mighty shame that Ajith Kumar has failed to pick up the most basic acting skills even after aeons in the movie business. Surely, even lobotomized dolts or a washerman's ass would learn something after 16 years in a trade.

From the moment the fella appears on the screen leaning against a fence with a gun in hand to the last frame of Aegan, Ajith Kumar is the ultimate case study of a gibbering monkey. All that's missing is a Vaal (tail) for this thala (as Ajith is referred to in movie circles).

When Ajith dances, it's with the grace of Oliver Hardy; when Ajith fights, it's with the finesse and bravado of Vadivelu's comic scuffles; When Ajith walks it's with the swagger of a drunk Johnny Lever or the late Jeevan. When Ajith talks, it's with the charm of the handicapped child in Black.
Does Ajith have a future in Tamil movies? Hard to say because in Tamil Nadu anyone with a Thala (head) has a few Vaal (tails) running behind him.
Does Ajith deserve to have a future in Tamil movies? – No.