Nokia has released its N96 multimedia phone in the U.S. market and priced it at a whopping $900 (yes, that is nine hundred dollars).
And this overpriced device does not even have a touchscreen interface like the iPhone.
As far as we can tell no cell phone operator is subsidizing the N96 in the U.S.
Given the current state of the U.S. economy, the sullen mood of American consumers and lack of carrier subsidies, the Nokia N96 is destined to become one of the biggest flops.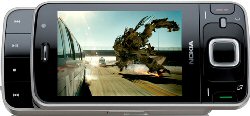 Nokia N96 – Overpriced
The Nokia N96 packs a phone, a 5-megapixel camera with Carl Zeiss optics, turn-by-turn voice navigation, 16GB of internal memory (expandable to 24GB with an optional microSD card),  N-Gage gaming and a 2.8″ display.
Yes, it supports 3G HSPDA networks in the U.S., video display and capture of video clips at 30fps.
The 16GB iPhone 3G costs $300 with a two-year contract.
Nokia plans to peddle the N96 through its Nokia Flagship stores in New York and Chicago, online and via independent retailers and e-tailers.
All we can say is Good Luck to Nokia. They'll need it.