Cars are a curse, the spawn of the Devil himself.
Cars are not liberating but incredibly suffocating.
After the stress of driving several lakh KM over many years, you have no idea of how much schadenfreude we derive from the current dismal state of the auto industry.
To say that GM, Ford and Chrysler are in extremis (dire straits) would be an understatement.
Following decades of putting out shoddy cars, ignoring emission standards and overpaying their executives, the U.S. auto industry has run out of options and now stands on the cliff's edge with a begging bowl pleading for help from the Congress.
Congress must not give them a dime (fat chance they'd listen to us) but the idiots will. Media reports in the U.S. say the auto industrey is begging for $50 billion.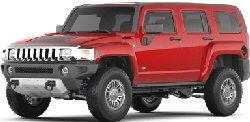 Hummer H3 – Ugly Gas Guzzler
As U.S. President-Elect Barack Obama said in his first press conference (post-election) today:
The news coming out of the auto industry this week reminds us of the hardship it faces — hardship that goes far beyond individual auto companies to the countless suppliers, small businesses and communities throughout our nation who depend on a vibrant American auto industry. The auto industry is the backbone of American manufacturing and a critical part of our attempt to reduce our dependence on foreign oil.
Look at the latest quarterly losses of GM & Ford (since Chrysler is a private company, it does not report its numbers but we have no doubt that they are as ugly):
Third Quarter Loss & Stock Price (Friday)
GM – $2.5 billion  $4.36
Ford – $3 billion  $2.02
Solution
Public transportation is the panacea (one of them, at least) for so many problems caused by the auto industry in America and elsewhere – buying oil from the Middle East despots,  rapid depletion of a precious commodity, pollution, road rage and sheer waste of money on these scary and dangerous metal boxes on wheels (if you don't think it's scary try driving a SUV in pouring rain after sunset on Bay Bridge near Annapolis, MD with monstrous tractor-trailers in the next lane).
Cars also force government investment in highways, toll infrastructure, police to enforce speed limits and the like when all that money could go into safer high-speed rail infrastructure.
The U.S. is pathetic when it comes to trains but invests so much in supporting the decrepit airline and auto industries because of corporate donations to Congressmen and Senators. India and Europe are so far ahead in their railway system.
Indian Auto Industry
As the U.S. car business is in decline, American, European and Japanese manufacturers like Ford, GM, BMW, Honda, Toyota and Mercedes Benz have dropped anchor and established manufacturing facilities in India.
Some experts predict that 4.2 million four-wheelers will be sold in India by 2015.
How sad and what a tragedy if Indians embrace the car with the same vengeance that Americans have done for over 100 years.
The good news is that auto demand is said to be weakening in India also with reports of a 'virtual panic' because of poor sales in October.
Improving public transportation is the key for major Indian metros like Bangalore, Chennai, Mumbai, Delhi and Kolkata. The crowded trains in Mumbai are a disgrace.
Of course, some will complain that the auto industry provides employment to 13 million people in India. Well, nuclear power plants, chemical facilities and missile companies also provide employment. Should we have one in every village and town?
Rapid public transit systems is what India ought to go in for to cut pollution, reduce oil dependency, ensure faster and safer transportation and conserve oil for future generations. But Indians are drunk on the prestige and 'freedom' they mistakenly think cars provide and are unlikely to embrace or demand better public transportation. What a shame.
Alas, ours is a cry in the wilderness and we have no illusion that any meaningful changes will happen anytime soon.