Dostana Plunges 66% at Box Office
Ugly Dostana – So-So at Box Office
Can someone quickly hand us a long piece of rope so that we may hang Abhishek Bachchan, John Abraham and Priyanka Chopra together on the nearest tree and spare millions of Bollywood fans further agony from this troika's simian antics on the screen. Oops, we almost forgot to tighten the noose around the neck of the worst actor in the Milky Way – who else but Buffoon Deol a.k.a. Bobby Deol, who makes a brief appearance in this horror of a flick.
So buddy, make sure the rope is long and strong to hold this quartet high up in the air.
And if we have some extra length left, we'll hoist Dostana director Tarun Mansukhani and producer Karan 'pansy' Johar as well for inflicting this agony upon Bollywood fans.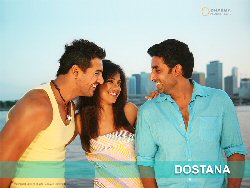 By god, it'll be a long time before we can purge our eyes and ears of this horrific nonsense masquerading as a movie.
Chuck & Larry vs Sam & Kunal
We've watched I Now Pronounce You Chuck and Larry, which notwithstanding the ugly reviews, we pronounce entertaining and a hilarious riot.
But Dostana is ugly from the getgo.
You build a story carefully, one scene at a time as they do in I Now Pronounce You Chuck and Larry.
Two longtime Brooklyn firemen and buddies (Adam Sandler and Kevin James) pretend to be gay because the widower James is confronted with the bureaucratic hassle of naming a beneficiary on his pension form.
But in Dostana two almost strangers Sameer (Abhishek Bachchan plays a male nurse) and Kunal (John Abraham is a photographer) living in Miami suddenly decide to put on the gay act because a lady won't rent an apartment to two guys because her niece Neha (Priyanka Chopra) is living in the third room.
Such is the garbage heaped on you in Dostana, dear friend. Nothing makes sense in Dostana even in a weird way.
The home inspection scene that was handled so beautifully in I Now pronounce You Chuck and Larry becomes repellingly clownish at the hands of Tarun Mansukhani. Horror of horrors, the immigration inspector is even dancing along with these two clowns (you know who).
Ah, the injustices of life. After watching that vision Jessica Biel in I Now pronounce You Chuck and Larry, we have to endure this whacko Priyanka Chopra in Dostana.
When you reach the denouement of the kissing scene in I Now pronounce You Chuck and Larry, it was at the end of an entertaining journey. In Dostana, the Abhishek-John kissing moment comes at the end of a tedious ordeal.
If you think the first half of Dostana is bad, the latter half gets nauseatingly awful as John Abraham and Abhishek Bachchan engage in one silly prank after another to separate Bobby Deol and Priyanka Chopra.
And the author of this most grotesque story and inept screenplay is none other than mis-director Tarun Mansukhani himself.
Bad-Ass Acting
When Abhishek Bachchan spins a yarn on how he first met his gay partner John Abraham in Venice, we wished the earth would open up and swallow this Bollywood freak.
Mon Dieu, this Abhishek Bachchan guy is a bad actor. Did we say, hideously bad. Yes.
In several crucial scenes, this duffer looks like he's got all the brains sucked out of his head. Like when his mother (Kirron Kher) lands up in Miami after accidentally learning her son is gay or when he's trying to tell Priyanka Chopra of his love for her in the clothes store. Flat performance. Just like his biwi.
As for John Abraham, the fella is good only for those briefs ads…you know where they show only the bottom half of the torso with a bulging crotch.
John Abraham makes Abhishek Bachchan look like a combination of Marlon Brando, Jack Nicholson and Robert Redford. Even in a supposed-to-be-funny scene like when Kirron Kher does the aarti for him, this John Abraham mass of flesh can't emote. Sad.
Like that old hag Shilpa Shetty (who appears here briefly in brief clothes), Priyanka Chopra looks bad enough when clothed. Putting a bikini or other skimpy attire on this nature's mistake is torture for viewers.
With the front of her shimmering sari tucked between her boobies, a backless blouse exposing her back, the sari tucked way below her navel and dancing like a trollop, Priyanka Chopra looked cheaper than the cheapest slut and uglier than the ugliest tramp in the Desi Girl song.
Kirron Kher overacts like she's desperate to receive her fat paycheck and vanish from the scene while Boman Irani's role was poorly fleshed out.
Nice Moments
Truth be said, there were a few scenes that had us in splits – when Kirron Kher gives her bangles to John Abraham and talks to him about the importance of observing Karva Chauth. Or when Abhishek talks about Gabbar Singh of Sholay fame being gay.
Dostana's music is not bad but their hellishly bad picturization make it seem like the devil's own tunes were assaulting our ears.
In a long life, fate has dealt us many surprises – some good and a few not so good – but seldom has as cruel a joke as Dostana been played on us.
Jump off a cliff, take a knife and cut yourself in a thousand places, get a sex change…do anything but watch this infernal nightmare called Dostana.
You'll find it impossible to survive the ghastly ordeal.
Related Stories:
Ugly Dostana – So-So at Box Office