The new James Bond thriller Quantum of Solace (Daniel Craig) has had a decent opening at the U.S. box office.
For its opening weekend (Nov 14-16, 2008), Quantum of Solace came in at No-1 at the U.S. box office with a total gross of $70.4 million, way ahead of the previous Bond flick, Casino Royale ($40.83 million).
The latest Bond movie had an average gross of $20,400, slightly lower than Will Smith's I am Legend.
Here's how Quantum of Solace fared compared to some prominent Hollywood and Bollywood movies in the U.S.: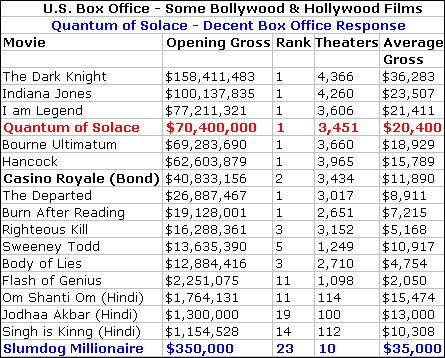 Tired as we are of trashy Indian movies like like Vaaranam Aayiram, Dostana, Drona and Aegan, Quantum of Solace was welcome solace indeed. 
As SearchIndia.com said in its review of Quantum of Solace:
Whether in the daring action scenes as he leaps across roof-tops in pursuit of the betrayer Mitchell or fighting high-up in dark, tall buildings or showing that faintly noticeable flicker of emotion about Vesper, Daniel Craig is a joy to behold.

You don't expect great acting in a Bond movie, a Jason Bourne flick or a Superman sequel but Daniel Craig delivers.

…Its shortcomings notwithstandings, Quantum of Solace is decent fare – a lavish buffet set on a well decorated table with most of the usual Bond ingredients in abundant supply.