Dostana, the perverse Bollywood abomination starring those three non-actors Abhishek Bachchan, John Abraham and Priyanka Chopra, has not exactly taken the U.S. box office by storm.
For its opening weekend (November 14-16, 2008), Dostana came in at No-16 with a total gross of $645,604.
The movie had an average of $8,724, which is lower than the Sarkar Raj average of $9,178.
Dostana's opening weekend gross came in well short of Bollywood movies like Om Shanti Om, Jodhaa Akbar or Singh is Kinng and was only slightly better than that ghastly nightmare Sarkar Raj or Ajay Devgan's crude lift of the Notebook, U Me Aur Hum.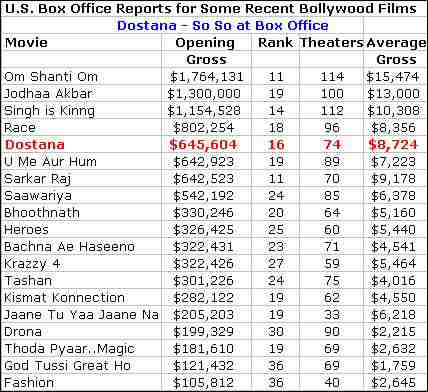 By any yardstick, Dostana is a crappy movie, most definitely worth missing.
As SearchIndia.com wrote in its review of Dostana:
By god, it'll be a long time before we can purge our eyes and ears of this horrific nonsense masquerading as a movie.

We've watched I Now Pronounce You Chuck and Larry, which notwithstanding the ugly reviews, we pronounce entertaining and a hilarious riot.

But Dostana is ugly from the getgo.

…..In a long life, fate has dealt us many surprises – some good and a few not so good – but seldom has as cruel a joke as Dostana been played on us.

Jump off a cliff, take a knife and cut yourself in a thousand places, get a sex change…do anything but watch this infernal nightmare called Dostana.