Gautam Menon's mega-folly and depressingly disgusting Cooum Dump of a movie Vaaranam Aayiram (Surya), is a box office disaster in the U.K., according to the numbers from the UK Film Council.
Even trashy Tamil films like Kuselan, Kuruvi, Bheema and Billa fared better in the U.K. than Vaaranam Aayiram.
And why not – Vaaranam Aayiram is a pathetic piece of shit that had no business being released in a theatre.
If Surya and Gautam 'inept' Menon wanted a joy ride on the ego train, they should have limited the screening of this piece of junk to Friends & Family and not inflicted such painful agony on the paying audience.
Au contraire, Surya and Gautam 'inept' Menon duped us of $15 by promising a movie and showing us some ugly images flashing on the screen.
For the opening weekend (November 14-16, 2008), Vaaranam Aayiram had a pathetic opening gross of a mere £44,589, much worse than a crappy movie like Kuruvi.
Vaaranam Ayiram came in at No-16 for the opening weekend and had an average gross of £4,954, lower than Billa, Kuruvi and Kuselan but higher than Bheema and that ultimate kuppa Aegan.
Look at the numbers below to see how Vaaranam Ayiram has fared at the U.K. box office compared to a few other Tamil movies in the opening weekend: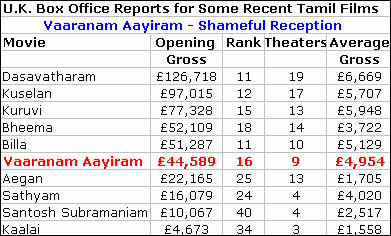 Source: UK Film Council
For all those who hailed Vaaranam Aayiram as a masterpiece and Surya's greatest performance, well it seems there are not many who share your opinion going by the box office numbers.
Gautam Menon and Surya set out to deliver the Tamil equivalent of Forrest Gump but given their limited talent could deliver only a Cooum Dump.
Describing Vaaranaam Aayiram as an interminably long pathetic piece of shit, SearchIndia.com wrote in its review of this ghastly nightmare:
There's Forrest Gump and then there's Cooum Dump oops Vaaranam Aayiram. (Just in case you are not from Tamil Nadu and happened to stumble upon this review, Cooum is that infamous stinking river in the states capital Chennai.)

Like director Robert Zemeckis in Forrest Gump, Gautam Menon sets off to tell the story of an ordinary man, actually two ordinary men here, father and son (both played by Surya) but unlike Zemeckis our Menon quickly falls flat on his face and just can't get up for the rest of the movie.
…The story is less than gripping, Surya's acting is so-so, the dialogs inanely banal, the songs soporifically dull and the dances, oh, they are straight from hell.
Before Gautam Menon unleashes his next horror show on the hapless public, we hope he'll learn the basics of the movie-making business.
Related Stories:
Why Just 15 Minutes? Cut 2 Hrs:45 Min of VA, Please
Vaaranam Aayiram Review – Cooum Dump