Bollywood fans in the U.S. have sent a loud and clear message to Salman Khan, Anil Kapoor et al and director Subhash Ghai – We just don't think your pathetic shit of a movie Yuvvraaj is worth our time or money.
Bollywood moviegoers in the U.S. have shown Yuvvraaj the middle finger. And Big Time.
For the opening weekend of November 21-23, Yuvvraaj grossed a pathetic $264,362 at the U.S. box office.
The crappy movie came in at No-22 at the U.S. box office and had a pitiful average gross of $3,433.
To Salman Khan's eternal shame, Yuvvraaj did worse than even Kismat Konnection, featuring that B-grade star Shaheed Kapoor.
Yuvvraaj is Salman Khan's second big flop in recent month. His God Tussi Great Ho was also a disaster at the box office.
We find it hard to believe this clown Salman Khan still has a career left in Bollywood.
Here's how Yuvvraaj fared compared to other prominent Bollywood movies.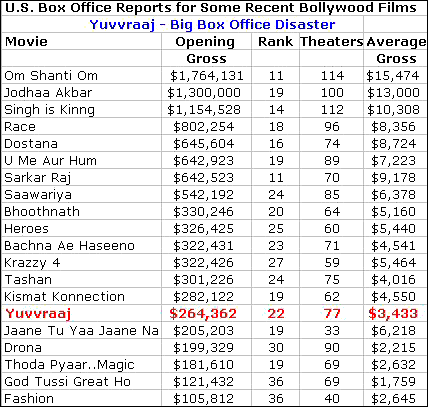 One of the most obscenely pathetic movies ever to see the light of day, critics have hammered away at this piece of crap.
Describing Yuvvraaj as a shitty copy of Rain Man, SearchIndia.com wrote in the review of the movie:
Yuvvraaj is an ugly, pitiful Bollywood copy of Rain Man that offers nothing but dollops of misery to unsuspecting moviegoers.

Dustin Hoffman and, to a lesser extent, Tom Cruise were a joy to behold in Rain Man, a stunning visual treat for moviegoers.

Compared to the Hoffman-Cruise duo, Salman Khan, Anil Kapoor and Zayed Khan are pathetic impostors, shameless caricatures of actors.

And completely oblivious to our misery, the Khan-Kapoor-Khan troika under the aegis of mis-director Subhash Ghai unleash a lengthy torture drama on the screen that has few parallels in Bollywood or elsewhere.

A peine forte et dure, this obscenely bad movie sucked the breath out of us. Buffoons, all.