Yes, Pyar Hua Ikraar Hua is the greatest Bollywood love song. 
This song is truly for the ages.
And we don't want anyone contradicting us.
Comprende.
The movie is Shri 420 (1955) and the actors Nargis and that Chaplin wannabe Raj Kapoor.
Nargis looks so beautiful in the song, an angel descended from heaven.
What an accomplished actress. Raj Kapoor pales in comparison.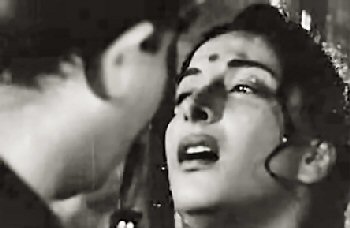 We've heard the song a million times and still never tire of it.
And neither will you.
Believe us when we say that if we hadn't given our heart to Ingrid Bergman, we would have gone back in time to look for Nargis.
Unless you are a complete masochist, you'll click on the above image and see/hear this classic (via YouTube).
Oh, we almost forgot.
The singers are Lata Mangeshkar and Manna Dey.