Crook Raju rather than Ramalinga Raju sounds like a better name for the guy who was responsible for wiping out Rs 10,000 crore in market capitalization on the stock exchange today.
Now, this fella is a real WMD (Weapon of Mass Destruction). Just imagine how much havoc and uncertainty he's created in employees' and investors' lives around the world.
Like all notorious crooks, Satyam co-founder and Chairman B.Ramalinga Raju is not an interesting bloke when you meet him in person.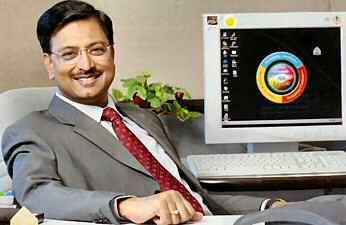 Ha Ha Ha, Screwed You All – B.Ramalinga Raju
Hailed on Satyam's web site as a world-renowned visionary, global business leader, and thinker, Ramalinga Raju, an MBA from Ohio University, is said to use
a simple, yet extensive management model to create value, which promotes entrepreneurship, a focus on the customer, and the constant pursuit of excellence. Raju is passionate about developing leaders within his organizations and has conceptualized / institutionalized the Full Life Cycle Leadership (FLCL) model, a unique entrepreneurship framework that develops leaders at all levels of Satyam.
A world-renowned visionary, global business leader, and thinker….constant pursuit of excellence?
Is there no limit to baloney. Who wrote this nonsense on the Satyam web site, we want to know. Hang the sycophantic idiot.
Now this Crook Raju has set a unique and dubious record in the annals of Indian business – by day's end in India he had managed by his fraud confession letter the amazing feat of  burning the market capitalisation of Rs 12,067.98 crore on Tuesday to Rs 2,691.88 crore on Wednesday.
Hey, this guy even has a grand sense of humor – after engaging in unparalleled deceitful corporate behavior for several years, the fella opened his letter to fellow board members with the
deep regret, and tremendous burden that I am carrying on my conscience.
Conscience, Ramalinga Raju?
What does the word mean and how do you spell it – C R O O K. Right?
In another section of the letter, Ramalinga Raju writes:
It was like riding a tiger, not knowing how to get off without being eaten.
Well, Ramalinga Raju you are soon going to be eaten alive by bigger tigers inside India's notorious jails.
Related Stories:
Satyam gets 3 New Directors
Indian Outsourcing Crook Ramalinga Raju Arrested
Satyam Board Kicked Out, Hooray
Ram Mynampati Vows to Stay at Satyam; Kick Him Out
Trading in Satyam Still Halted on NYSE
We are Big Time Crooks, Confesses Satyam
Are Infosys, Wipro & Mindtree Crooks Too?
Satyam Fraud – The Perils of Outsourcing
53,000 Satyam Coolies Up Shit Creek; Massive Layoffs Likely
After the Shit Hits the Fan, Satyam Kisses Employees Ass
SEBI Orders Probe into Satyam
End of the Road for Satyam Computer
Satyam Chairman Ramalinga Raju's Arrest Imminent
Satyam Shares Crash After Massive Fraud Revealed
Satyam Fraud – Is Nasscom Sleeping?
What the Hell is Really Happening at Satyam?
Investors To Satyam Raju – Drop Dead
Satyam Computer Screwed in Forgery Case