Indian IT services provider Satyam Computer Services today acknowledged duping investors for years through massive fraud in its accounts.
Satyam's beleaguered Chairman B.Ramalinga Raju and managing director B.Rama Raju have resigned.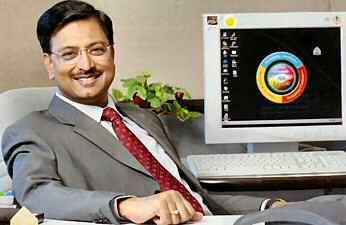 Ha Ha Ha, Duped You All – Ramalinga Raju
Providing details of the massive fraud in a letter to the company's board, Ramalinga Raju said the balance sheet carries as of September 30, 2008:
* Inflated (non-existent) cash and bank balances of Rs 5,040 crore (as against Rs 5,361 crore reflected in the books)

* An accrued interest of Rs 376 crore which is non-existent

* An understated liability of Rs 1,230 crore on account of funds arranged by me

* An overstated debtors position of Rs 490 crore (as against Rs 2,651 reflected in the books)

* For the september quarter, Satyam fraudulently reported a revenue of Rs 2,700 crore and an operating margin of Rs 649 crore (24% of revenues) as against the actual revenues of Rs 2,112 crore and an actual operating margin of Rs 61 crore (3% of revenues). This has resulted in artificial cash and bank balances going up by Rs 588 crore in Q2 alone.
Ramalinga Raju acknowledged that the gap in the balance sheet had arisen on account of inflated profits over a period of last several years.
Apparently what started as a marginal gap between actual operating profit and the one reflected in the books of accounts continued to grow over the years and attained unmanageable proportions as the size of the company's operations grew significantly (annualized revenue run rate of Rs 11,276 crore in the September quarter 2008 and official reserves of Rs 8,392 crore).
Ramalinga Raju wrote in the letter:
Every attempt made to eliminate the gap failed. as the promoters held a small percentage of equity, the concern was that poor performance would result in a take-over, thereby exposing the gap. It was like riding a tiger, not knowing how to get off without being eaten.
Ramalinga Raju said the aborted Maytag acquisition deal (more on that later)Â was the last attempt to fill the fictitious assets with real ones.
We Did Not Benefit
Ramalinga Raju claimed in the letter that neither he nor his brother B.Rama Raju (managing director of Satyam Computer) benefitted in financial terms from the inflated results.
According to Ramalinga Raju, neither he nor his brother and their spouses had sold any shares in the last eight years except a small proportion for philanthropic reasons.
In the letter to the board, Ramalinga Raju apologized to all Satyamites and stakeholders for the current situation and hoped that they would stand by the company in this hour of crisis.
The 53,000-man company has operations in 66 countries and 185 Fortune 500 companies as customers.
DSP Merill Engagement Terminated
Satyam has also informed the Bombay Stock Exchange that DSP Merrill Lynch has terminated its engagement with the company.
Satyam had hired DSP Merrill Lynch to conduct a review of the company's strategic options to enhance shareholder value.
Maytas Fiasco
In mid-December, Satyam decided against going ahead with the proposed $1.6 billion acquisition of two building companies Maytas Properties and Maytas Infra with close links to the Raju family after investors ire caused the stock price to crash.
The Raju family has significant stakes in the Maytas companies (Maytas is Satyam spelled backward) raising corporate governance concerns that triggered downgrades by Citigroup and JP Morgan Chase.
Raju tried to justify the acquisitions saying that it would "de-risk our core IT business by adding a new – yet well-established – business vertical in infrastructure" but the investors refused to buy any of that.
Related Stories:
Indian IT Crook Satyam Names Insider A.S.Murty CEO
Satyam to Employees – You'll get January Salary
And Now They are Six
Satyam gets 3 New Directors
Indian Outsourcing Crook Ramalinga Raju Arrested
Satyam Board Kicked Out, Hooray
Ram Mynampati Vows to Stay at Satyam; Kick Him Out
Trading in Satyam Still Halted on NYSE
53,000 Satyam Coolies Up Shit Creek; Massive Layoffs Likely
Satyam Makes Another Big Mistake – Names Insider Ram Mynampati Interim CEO
Crook Raju Wipes Out Rs 10,000 Crore in Market Cap
Are Infosys, Wipro & Mindtree Crooks Too?
Satyam Fraud – The Perils of Outsourcing
Sebi Orders Probe into Satyam
End of the Road for Satyam Computer
Satyam Chairman Ramalinga Raju's Arrest Imminent
Satyam Shares Crash After Massive Fraud Revealed
Satyam Fraud – Is Nasscom Sleeping?
After the Shit Hits the Fan, Satyam Kisses Employees Ass
What the Hell is Really Happening at Satyam?
Investors To Satyam Raju – Drop Dead
Satyam Computer Screwed in Forgery Case