Akshay Kumar's latest nightmare Chandni Chowk to China has collapsed 80% at the U.S. box office in its second weekend.
This dungheap of a movie came in at No-38 with an average gross of $965.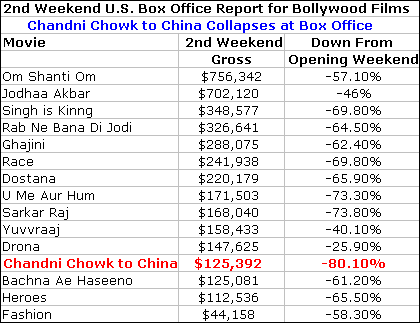 This piece of garbage did worse than even Drona in the second week, which is a very hard feat to achieve.
Akshay, what did you tell Debashine Thangevelo of Independent Group's newspapers in South Africa in your interview? – This movie is my masterpiece.
Ha, ha, ha. Are you out of your mind?
Chandni Chowk to China is not your masterpiece. Au contraire, CC2C is your monsterpiece.
A disgusting piece of shit, worthy only of Bollywood.