Delhi 6 Falling, Falling, Falling – Down 75% 
Abhishek Bachchan's latest crap-show Delhi 6 has failed to work wonders in its opening weekend at the U.S. box office.
Well, what do you expect. With his non-existent acting skills, Abhishek Bachchan is the kiss of death for a Bollywood movie.
Like most of Abhishek's previous movies, Delhi 6 is also mediocre shit.
Stay Away from Delhi 6
Folks, if you haven't gone to this movie consider yourself wiser than the rest of us.
Delhi 6 opened at No-23 in the U.S. and had an unimpressive total opening weekend gross of $602,850.
The movie opened in 90 theatres and had an average of $6,698.
By the way, Delhi 6 did worse than Abhishek Bachchan's previous crap movie, that perverse Bollywood abomination Dostana.
Here's how Delhi 6 fared compared to a few other prominent Bollywood movies in the opening weekend at the U.S. box office: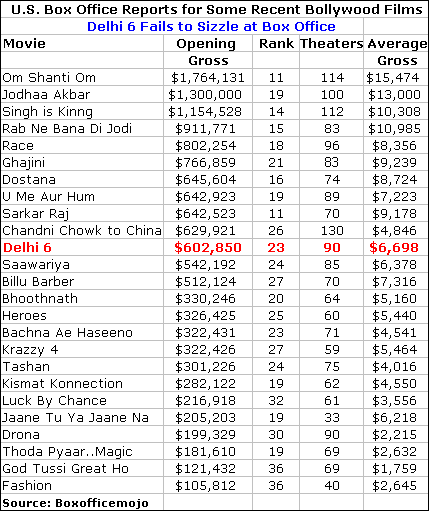 Flaying Abhishek Bachchan's poor acting skills, SearchIndia.com wrote in the review of Delhi 6:
Delhi 6 is an Indian kaleidoscope alright but one that has no meaning because most of the characters are so poorly fleshed out.

Nor is there a compelling overarching story to unite the disparate loose threads.

Although there are moments of humor that had us and the others laughing, ultimately the Delhi 6 story is not in the least bit gripping.

Tis' a pity that Delhi 6's music fails to rise above the ordinary either. For that would have been some saving grace.

With the exception of Masakali, we were not taken in by any of the other songs or their picturization.
Given that Abhishek Bachchan doesn't know diddly about acting, it's odd that the bozo fails to make the least effort to improve.
Related Stories:
Delhi 6 Falling, Falling, Falling – Down 75%
Delhi 6 Review – A Meaningless Kaleidoscope