(Thanks to Sanewar and Lucifersam for recommending Gomorrah) 
Gomorrah (Italian) takes the gangster/Mafia genre of movies to an entirely new level.
If Godfather, Scarface and even Cidade de Deus (City of God) glorified the criminals, put them up on a pedestal and made them seem almost godly despite their violence, Gomorrah knocks them off their high perch and brings the hoodlums and dregs of society down to earth.
Shows the violent criminals for what they are – plain scum.
Based on Roberto Saviano's bestselling expose of the Cammora criminal organization in Naples and brilliantly directed by Matteo Garrone, Gomorrah presents a violence that's so raw, so realistic and so absent of any sugercoating.
Bereft of routine cinematic exaggeration and shorn of the romantic vision of guns blazing violently, Gomorrah is the finest exemplar of the crime genre in the last 25 years.
Some members of the audience may even be repelled by the matter of fact banality to the violence. But such is life in present-day Naples (for all you schmucks ignorant of geography, Naples is in Italy).
Unlike in Godfather or Scarface, there are no happy moments in Gomorrah. It's almost as if the movie has vowed not to entertain you but actually does so immensely.
Given the Cammora's tentacles into every walk of life and touching every class of society, the violence, the corruption, the drugs, the betrayal, the distrust and its twin brother fear are forever overground not lurking below the surface.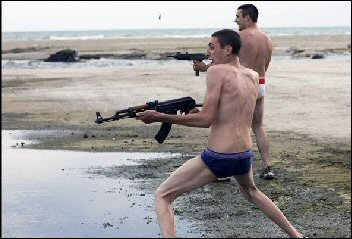 Gomorrah showcases brilliantly the collapse of civic society in the Naples region through five separate stories, whose only connection is that they are all connected to crime in some way:
* Pasquale – A haute couture tailor for a Gomorrah business, Pasquale gets dragged into a violent attack when he helps a Chinese businessman to make the same fashion apparel
* Young Toto – Son of a small grocery-store owner, the young kid's initiation into crime happens soon after he finds and returns a gun and drugs when the police bust some gang members
* Roberto and his boss Franco – The two are involved in illegally dumping toxic waste for businesses in a quarry until Roberto gets sick of the job and elects to leave much to Franco's immense anger
* Marco and Circo – Two itchy-fingered young hoodlums whose days are numbered when they steal a stash of weapons
* Don Ciro – A low-level functionary in the criminal organization, whose job is to distribute money to the family members of those in jail
Although the stories are separate, the overarching violence and picture of a society that's completely collapsed into corruption and violence weaves the different strands into an enticing whole.
Triple Delight
Gomorrah offers a triple treat to viewers – the story is intensely gripping, the acting of every member immensely fetching and the photography seductively arresting.
In a movie that impresses from the first frame to the last, how do you pick one or two or even a few impressive sequences. Really hard.
Is it the scene in the abandoned building where the young hoodlums Marco and Circo play Tony Montana from Scarface, or is it Toto's betrayal of Maria or is it the scene of Franco employing a gaggle of children to drive dump trucks full of toxic waste or is it Pasquale telling his wife proudly how the Chinese workers referred to him as Maestro. Or is it the sight of Don Ciro walking away in fear in his blood-splattered dress after his associates are killed and the money robbed. Or maybe it's the picture of Marco and Circo going beserk with their guns on a deserted beach.
Or is it the young hoodlum yelling:
Let's move. I have to shoot. I can't stand not shooting.
Embarrassment of Riches
Truly, Gomorrah is an embarras de richesse for connoiseurs of fine movies. 
Gomorrah opens with a bloody murder in a tanning salon and ends with the violent end of the two young hoodlums lured to their death by a false promise.
To borrow a phrase from the movie, with corruption and violence sparing none everyone is meat for the slaughterhouse in Naples sooner rather than later.
Gomorrah won the Gran Prix at the Cannes Film Festival 2008.
SearchIndia.com strongly recommends Gomorrah. It's currently running in limited theaters in the U.S.