Not for us roasted lamb, ham, hardboiled eggs or cakes this Easter.
We decided to try something novel this year – Strawberry Kesaribath.
Indians are no strangers to Kesaribath a.k.a Rava Kesari or Ksheera. Walk into any Indian vegetarian restaurant and there it is staring at you with that order-me-now look on the menu.
Whether you have a sweet tooth or merely love to end a good meal with a dessert, Kesaribath is one of those heavenly delights that gives purpose to life on earth.
A short while ago, we decided to give a new twist to this venerable Indian treat by giving it a strawberry flavor.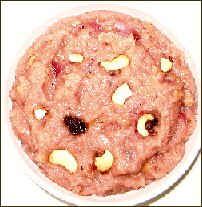 Here's SearchIndia.com's recipe for Strawberry Kesaribath.
Ingredients
1) 8-10 medium size fresh strawberries
2) One cup semolina/soji or ravva
3) One cup sugar
4) 10-15 pieces of cashew nuts
5) 10-15 pieces of dry grapes
6) Two cups of water
7) One and a quarter cup boiled milk
8 ) 60 ml ghee
9) 3 pods of cardamom
Method of Preparation
Heat a thick-bottomed vessel and add one spoon of ghee. Fry cashew nuts and dry grapes for one minute and keep them aside.
Rinse the thick-bottomed vessel in water and heat it until it becomes dry. Add two spoons of ghee and heat for one minute.
Then, add semolina or ravva and fry it for eight minutes on medium flame. Keep mixing the ravva continuously so that it does not get burnt. After frying the ravva for 8 minutes, add sugar powder and mix thoroughly and continue frying for another two minutes. Switch off the stove and remove the ravva from the vessel and keep it aside.
Boil water in a separate vessel until it becomes very hot.
Wash the strawberries thoroughly and remove the top stock with leaves and cut each strawberry into four pieces. Heat a clean thick-bottomed vessel for two minutes and fry the strawberries in two spoons of ghee for two minutes. Add the boiled water and cook the strawberries for four minutes on medium flame.
Now, add half of the fried cashew and dry grapes and then add the ravva sugar mix. Ravva sugar mix must be added in small quantities while simultaneously mixing it to avoid lump formation while keeping the stove on medium flame. After adding ravva keep mixing continuously while adding ghee in small quantities for about 8 minutes.
After ravva starts becoming thick, add boiled milk in small quantities while simultaneously mixing it. Keep mixing the ravva while adding the remainig ghee in small quantities until strawberries and ravva mix becomes thick. Switch off the stove.
Peel the three pods of cardamom and powder the cardamom seeds together with a spoon of sugar using a chapati rolling pin. Add cardamom powder and mix thoroughly.
Garnish the Strawberry Kesaribath with remaining fried cashew nuts and dry grapes and serve hot.
Serves – Three to Four.
NB 1 – If you like, you can add a pinch of kesar color dissolved in a spoon of milk. We did not use kesar color as we prefer completely natural flavor.
NB 2 – We used fat free milk. You could use whole milk instead of fat-free milk.