Oh, no. Don't get your hopes up.
We are not doing what Padma Lakshmi did recently in Allure. No way.
But ever since we espied our Tamil ponnu Padma Lakshmi favoring us with a tantalizing glimpse of her delectable orbs as she crunches down into a Hardee's Western Bacon Thickburger, lazily throwing back her head and alluringly pulling up her dress over glistening thighs with the left hand, we've had little sleep. Very little sleep, indeed.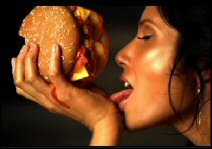 Irresistible Padma Lakshmi
(image: Hardees)
Our waking and sleeping moments have been haunted by the sight of Padma, telling us in that come-hither sexy tone of her 'love affair with food' and how she's 'tasted every flavor imaginable.'
Oh boy, we'd love to taste every flavor too. You bet, we'd.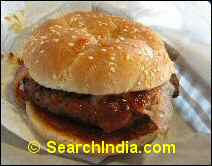 Western Bacon Thickburger
With little chance of getting the flavor of Padma at close quarters, we settled for the closest alternative.
We went down to the local Hardees and ordered Padma's old favorite – a Western Bacon Thickburger.
Without hesitation, we said 'no' to the invitation to purchase a combo (not being great fans of soda).
Since we are gluttonous desis, we also ordered beer battered onion rings, a chocolate shake and a side salad with ranch dressing.
Like any cheapo desi, we never travel far without a coupon. So, our $1 off coupon brought our total bill down to $9.17.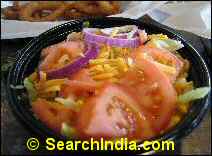 Side Salad
We opted to dine in.
With mucho anticipation, we waited for our Western Bacon Thickburger described by Hardees as:
A 1/3 lb. 100% black angus beef Thickburger topped with beer-battered onion rings, spicy sweet BBQ sauce, melted cheese, diced onion and strips of bacon.
It took about six minutes for the food to reach our table. And when it did, the Western Bacon Thickburger wasn't in the least impressive in its plain packing.
Oh, heck. Never mind the plain wrapper.
Fantasizing over our inamorata Padma Lakshmi, we unwrapped our Western Bacon Burger and crunched into the burger the way she did, the burger, bacon strip, sesame seed bun and all.
Ughhhh. Eeeks.Yuck.
Our first thought was Padma sure has bad taste. No, we are not talking of Salman Rushdie. 😉
You see, the vile-tasting BBQ sauce overwhelmed the burger. Although promised as spicy and sweet, the dripping BBQ sauce was neither. The BBQ sauce can best be described as an abomination.
We wanted to heave it into the trash. But hey desis have not earned the cheapo reputation lightly. Since we had paid $4.19 (pre-the $1 discount coupon), we gloomily took another bite. And another bite. And another until there was just the wrapping left on the table.
The burger itself was not bad but the lousy BBQ sauce screwed it all up.
No, the beer-battered onion rings was nothing to write home about either. Even the small Burger King onion rings are better.
Oh, the hand-scooped Chocolate Shake was a let-down too. If the shake had any chocolate flavor, it was only in the imagination of some Hardees schmuck.
The side salad ($1.79) with Buttermilk Ranch dressing was the only tolerable part of our Padma-tasy (a fantasy meal involving our sizzling Padma Lakshmi).
By this time, we were in a sullen mood and desperate to get back home. All we wanted to do was log on to YouTube, drool over Padma Lakshmi again and get that awful taste of the Western Bacon Thickburger out of our mouth.
Hey Paddu, next time show some mercy on us and why not drool over some Idli, Vada and some hot Sambar. That's more up your alley and ours too!