Writers on digital media are getting into a frenzy over the upcoming launch of the Palm Pre smartphone on June 6.
But we think any excitement over the launch of the Palm Pre mobile phone is completely unwarranted.
<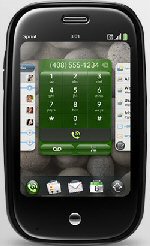 Even if the new Palm Pre is a decent phone (and we still don't know if its performance can match the hype), here's why it won't find many takers:
* A smartphone without a huge base of applications to tap into is like a nice-looking library without many books inside. Users of smartphones like iPhone or Palm Pre are more demanding users since they pay a minimum of $70 per month and now have higher expectations such as a good supply of applications in various categories. The iPhone already has 35,000 applications that have together seen over a billion downloads. The Palm Pre web page makes a reference to two, yes, just two, boring applications to come – Fandango and FlightView.
* Other than the ability to keep multiple applications open simultaneously (iPhone may offer that capability too in the not-too-distant future) and a 3-megapixel camera, we see little in the Palm Pre to make it a compelling proposition.
* Palm Pre is being launched by Sprint, a dying and crappy U.S. carrier with pathetic customer service in our experience (Sprint lost $594 million and lost 1.25 million post-paid customers in its first quarter).
* Palm Pre is being priced at $199 (after $100 mail-in-rebate), the same as the iPhone (8GB version). Why pay the same price for an untested phone as what you'd pay for a market leader that offers a decent phone. So, pricing for Palm Pre should have been lower. If AT&T (the iPhone carrier) lowers the iPhone price and the monthly fees (as rumored), then things will get even more difficult for both Palm Pre and Sprint.
* Instead of just pricing it at $199, Sprint is trying the cheap trick of offering a $100 mail-in-rebate hoping some people won't send in their rebate forms. So the upfront price is $299.
* Although you get more services with the basic Sprint Everything Data Plan for $69.99 per month (includes unlimited texting, navigation and TV plus 450 minutes and unlimited data) compared to just unlimited data and 450 minutes (with rollover) for the basic AT&T iPhone plan costing $69.99 a month, we like the AT&T plan better since we don't text at all and we love the minutes rollover feature.
* The U.S. economy is in the toilet and consumers are not going to rush over to buy a fancy new smartphone.
All in all, we think Palm Pre won't set the mobile phone market on fire like the iPhone did.
And it certainly won't save Sprint from its inevitable demise either (remember, Sprint lost $594 million, lost 1.25 million post-paid customers and lost a total of 182,000 subscribers in its first quarter).
Bottomline, we think the Palm Pre from Sprint is not worth your time or attention. Show it the middle finger.
Here are the key specs for the Palm Pre, which runs on the Palm webOS:
Display: 3.1-inch touch screen with 24-bit color 320×480 resolution HVGA display
Network: 3G
Keyboard: Physical QWERTY keyboard
Memory: 8GB
Email: Microsoft Outlook email with Microsoft Direct Push Technology POP3/IMAP (Yahoo, Gmail, AOL, et al)
Messaging: Integrated IM, SMS, and MMS
Digital camera: 3 megapixel camera with LED flash and extended depth of field
Sensors: Ambient light, accelerometer, and proximity
Wireless: Wi-Fi and Bluetooth
Dimensions: Width: 59.5mm (2.3 inches), Height: 100.5mm (3.9 inches) and Thickness: 16.95mm (0.67 inches)
Weight: 135 grams (4.76 ounces)