Kavya Shivashankar is winner of the Scripps Spelling Bee 2009 championship making it the second year in a row that a desi kid has been crowned the top speller of America (Sameer Mishra won the title last year).
The winning word was Laodicean, meaning lukewarm or indifferent.
Besides the Spelling Bee 2009 cup, Kavya took home over $40,000 in cash and prizes.
For the 13-years-old Kavya, this was her fourth attempt at winning the top honors in the prestigious Spelling Bee competition.
Kavya Shivashankar's victory was not a surprise as she was the hot favorite to win the cup this year.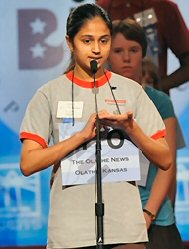 Kavya Shivashankar
(Image: Spelling Bee)
Here is Kavya Shivashankar's bio from the Spelling Bee 2009 web site:
Kavya enjoys practicing her violin, bicycling, swimming, and learning Indian classical dance. She names Nupur Lala, the 1999 Scripps National Spelling Bee champion, as her role model and the inspiration for herspelling career. She has plans for her future career as well: She looks forward to becoming a neurosurgeon. Kavya participated in the 2006, 2007, and 2008 national finals—tying for 10th, 8th, and 4th place, respectively.
This is the ninth occasion since 1985 that a desi kid has won the prestigious Spelling Bee championship.
The finals were held at the Grand Hyatt in Washington DC this evening and televised live on ABC.
Overall, desi kids fared extremely well in this year's Spelling Bee.
Here are some interesting statistics to chew on:
* 7 desi kids made it to the finals
* 15 desi kids made it to the semi-finals
If you are looking for some historical background on desis and the Spelling Bee, here we go: Balu Natarajan of Chicago was the first Indian-American to win the Scripps National Spelling Bee (1985).
Since 1985, eight other Indian-Americans have won the Spelling Bee: Rageshree Ramachandran (1988), Nupur Lala (1999), George Thampy (2000), Pratyush Buddiga (2002), Sai Gunturi (2003), Anurag Kashyap (2005), Sameer Mishra (2008) and now Kavya Shivashankar (2009).
Related Stories:
7 Desis Make it to Spelling Bee 2009 Finals
Statistic of the Day – Desis in Spelling Bee 2009
15 Desis Make it to Spelling Bee 2009 Semifinals
Sameer Mishra Wins Spelling Bee