All ye cheapo desis, we know the central mission of your life is to scrimp and shave a nickel here, a dime there, a dollar yonder and, voila, soon you are a millionaire.
So, as the patron saint of cheapo desis in the U.S., it's our raison d'être to find all you guys cheap (and good) stuff.
And boy, did we hit paydirt with the MagicJack on Saturday.
Like y'all, we too are sick and tired of paying extortionist monthly phone bills to the telephone/cable companies and have been on the lookout for a cheaper landline alternative.
We tried Vonage a few years back and were not too pleased with it. Plus, Vonage now requires a one-year contract and since marriage we hate any kind of binding contract. 😉
A few weeks ago, we stumbled upon the MagicJack when we had gone to Radio Shack to purchase something else. It was right there at the cash counter. But we did not buy it.
Instead, we shafted Sprint and made the Mexican billionaire Carlos Slim richer by buying a TracFone for $9.99.
But as our iPhone minutes kept winding down to dangerously low levels, we decided to take the plunge on MagicJack.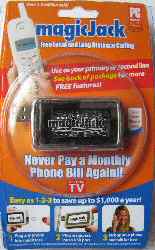 So, on Saturday we headed back to Radio Shack and got ourselves a MagicJack for $40. For the 40 bucks, you get the small device plus a full year of telephone service.
What a wise move. We haven't stopped patting ourselves on the back since.
MagicJack, which plugs into the USB port of your PC/laptop, is only a little larger than your typical USB storage drive (see picture above).
We plugged it into our Windows XP-based notebook PC. It took only a couple of minutes for the drivers to automatically install itself.
The device then prompted us to enter our e-mail address (needed for activation) and a password. In the next screen, it asked for our name and address. Finally, we were given the option of picking an area code. Most area codes in the U.S. are available.
That's it. We were ready to make calls. All of it took less than five minutes.
How to Make Phone Calls
With the MagicJack, there are two ways to make calls.
1. You can attach a regular telephone line to the other end of MagicJack that's hooked up to your PC.
2. Or, you can use the MagicJack dial-pad on the PC to make calls and speak/hear via a headset (not included with the device).
We tested both methods and they worked fine.
What You Need
Unless you are a blithering idiot, you've already correctly figured out that you require a broadband connection to use MagicJack.
We attached our cordless telephone into the rear end of MagicJack and called our friend in New Jersey on his cell phone. Our friend was in his car, driving around the Princeton area.
The call quality was superb. Our friend's voice came through crystal clear and he told us that he could hear us perfectly fine. No breaks at all.
We tested it again by making a call to another friend's mobile number in Philadelphia. Worked fine.
Then, we took our iPhone head-set and plugged it into our laptop and called our mobile phone via the MagicJack dialpad on the laptop screen. Again, the call quality was very good.
Since our broadband speed is around 15Mbps-20Mbps, MagicJack call quality was pretty good.
But what if your broadband speed is not that good. So, we tested the MagicJack with our mobile broadband, which has a lower downstream speed of about 1.8Mbps (still high but we don't have anything with a lower broadband speed). Again, the call quality was fine.
We've made several other calls to different numbers since.
No issues at all.
Extra Features
Besides the ability to make and receive calls, MagicJack offers other features like Call Waiting, Voice Mail, Caller ID, 911 and 3-Way Conference Calling for incoming calls. We tested them all (except for 911 and the 3-way conference call) and they all work well.
Yes, all long-distance calls within the U.S. and Canada are free too.
But international calling requires purchase of pre-paid minutes.
For India, the MagicJack rate is currently five cents a minute. Our cheapo desi friends tell us that's expensive and you can buy India minutes for a penny a minute elsewhere.
Get One for Your Mistress Too
If you have a family, girl friend, wife or chinnu veedu (mistress) in India, buy two MagicJacks, get U.S. telephone numbers for both and send one device to India. Now, you can call India all you want at no extra cost without worrying about the 5 cents per minute, or two cents per minute or whatever.
Plus, when there's voice mail to your MagicJack telephone number, you get an e-mail too.
Minor Issues
If you are planning on porting your existing landline telephone number to the MagicJack, you currently can't do it but this must-have feature is supposed to be coming later this year for a fee.
And you have to leave the PC/laptop on all the time.
Huge Savings
Think of all the $$ you are savings.
Verizon Freedom Essentials costs $45 a month while Comcast charges about $25 per month.
MagicJack is $40 for the whole year! From the second year, it's only $19.995 per year.
True, you need broadband service to use MagicJack.
But most of our cheapo desis in the U.S. already pay for some kind of broadband Internet access and if they dont, they are stealing from their neighbors' unsecured wireless networks.
MagicJack is useful even if you have a cell phone (which most of you do) since you can now sign up for the cheapest cell phone plan or port your existing cell phone number to a TracFone (for emergencies on the road) and use MagicJack at home.
As a battle hardened cheapo desi, we think MagicJack is good value for money.