Damn, why can't these folks in Cupertino let us lead our lives in peace.
Yes, a new version of Apple's wildly successful iPhone will debut on June 19.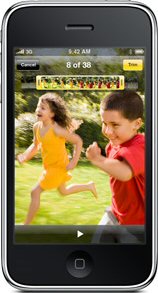 iPhone 3G S
Here are the key enhancements in iPhone 3G S (the moniker for the new phone):
* Support for video with built-in editing
* Hands-free voice control for both iPhone and iPod operations
* 3-megapixel camera (existing model, i.e. iPhone 3G: 2-megapixel)
* Supports 7.2 Mbps HSDPA for faster networking speeds
* Longer battery life
* Built-in digital compass for instant navigation
iPhone 3G S will ship with Apple's new iPhone 3.0 OS software.
Pricing
The 32GB version of iPhone 3G S costs $299 while the 16GB version is $199.
The 32GB version is a new offering from Apple. Previously, the storage on the iPhone topped off at 16GB.
But remember there's the bondage of the two-year contract with AT&T (Apple's exclusive carrier partner) with a minimum monthly ransom of around $74.
Apple has slashed pricing on the existing 8GB iPhone from $199 to $99, making it very unlikely that the new Palm Pre will ever gain any traction.
The 16 GB iPhone 3G is being phased out but AT&T will offer them for $149 until it gets rid of the stock.
Related Stories:
Damn, Where's My iPhone; Find My iPhone, Now
Apple App Store Hits 50,000 Applications