As curses go, no one has received so many or deserved as much as manufacturers of laptops/notebook computers.
Because laptops are a pain to lug around.
Horribly heavy, most notebook PCs give you a pain in the shoulder before you even reach your destination.
Worse, the batteries run out before your work is done.
Acer AspireOne Netbook
The other day we purchased an Acer AspireOne 10.1-inch netbook for $329 from Amazon.com for a friend.
We ordered the Acer netbook on May 31 and received it on June 10, via the U.S. Postal Service. Since we are cheapo desis, we opted for the free shipping option and that's probably why it took so long to arrive.
The Acer netbook model number is AOD 150-1165 and our color choice was Sapphire Blue.
Here are the key specs of the Acer AspireOne AOD 150-1165 Netbook:
* 160GB harddrive
* Windows XP operating system with Service Pack 3
* 1GB RAM (Max: 2GB)
* 3 USB ports (one on the left and two on the right)
* 1 RJ-45 Ethernet port on the left
* 6-Cell Sanyo Li-ion battery 10.8v 4400 mAh, 48Wh
* Multi-in-one card reader for SD, MMC, RS-MMC, Memory Stick/Memory Stick PRO and XD cards
* Touchpad navigation with two click buttons
* 10.1-inch Acer CrystalBrite TFT LCD screen, 1024 x 600 pixel resolution
* External Display (VGA) port
* Intel Atom processor N270 (1.60 GHz, 533 MHz FSB, 512 KB L2 cache)
* Webcam
* Microphone
* Jacks for headphone/speaker/line-out and microphone-in
* Dimensions – 10.2 x 7.28 x 1.31 inches
* Weight – 2.95 lb
Easy Setup
The set of the Acer netbook was fairly simple.
It took us about two minutes to unpack the netbook from its box and another three minutes to put it together.
The battery is in a separate plastic bag and you'll have to attach it to the back of the netbook. It took us a few tries before we heard the click sound of the Sanyo Li-Ion battery sliding neatly into the netbook.
Next, we hooked up the netbook to the electrical point in the wall and started the process of setting up a new user name, picking the default search engine, selecting the right time zone (U.S. Eastern Time, in our case), connecting it to the Internet easily via the RJ-45 ethernet jack and then doing a Windows update to secure the netbook against the various security holes in the Windows XP.
It took us about 30 minutes to install the critical security updates (we did not have to be in front of the netbook while the updates were being downloaded and installed).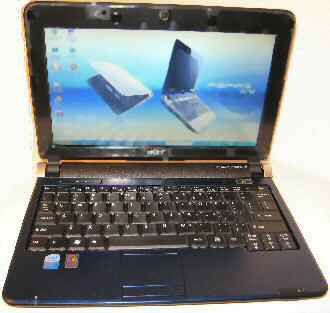 Acer Netbook (with plastic wrapper on it)

Ease of Use
After installing 23 out of 24 high priority updates from the Microsoft web site (we ignored IE 8), we logged on to YouTube to check out videos.
We played an old Hindi favorite Dum Maro Dum on YouTube from the old Dev Anand and Zeenat Aman movie Hare Rama Hare Krishna.
We encountered no issues with either the video or sound. Both were fine. Bliss it was to see Zeenat Aman's character in the movie sway to the high of some nice hashish. 😉
There is no separate volume button in the netbook as in laptops or desktops. In this netbook, you control volume by using the function keys + up/down scroll buttons.
To change brightness or contrast, use the function button + left/right scroll button. There are shortcuts for other functions like sleep, screen blank (to save power) et al.
We were not too happy with the touchpad or the left/right buttons built on the bottom two corners of a single strip. Not sure how it'll hold up to prolonged use. Our suggestion is to get a small mouse and use it wherever possible.
Another gripe we have is that the insert/delete button are on the top right of the keyboard, not at the bottom right as it usually is in most desktops or laptops.
We opened the notepad and typed a few lines to see how it felt. Did not seem like a difficult task.
Since the operating system in the netbook is the older and more stable Windows XP and not Windows Vista, 1GB RAM did not seem inadequate.
The screen was comfortable to read and thankfully the netbook was fairly quiet.
Battery Test
Besides weight, the other key issue with a portable computer (be it laptop or netbook) is battery life.
We tested the netbook's battery by first turning off the system standby and hibernation features.
Next, we also turned off the default setting of 'turn off' monitor and hard disk while the netbook is working on the battery mode from 5 minutes to 'never.'
This means the netbook was now powered on without any chance of going into sleep or hibernation mode.
Since we were busy with other work, we did not actively use the netbook but just let it remain idle.
The juice in the fully charged netbook's battery kept it going for 6 hours and 58 minutes. Cool.
Presumably, if we were running video, playing music or using it for other routine activities, the battery would not have lasted as long. Perhaps, 5 to 5 1/2 hours. Still, not bad.
Wireless Internet
Since we already have a secure wireless network in place, it took us only a few seconds to enter the network key (passcode) and log on to the Internet. Again, Internet access worked as well as it did earlier through the ethernet cable.
This time, we played an old Hindi favorite Mausam Ayega Jayega on YouTube. The song is from the 1979 Bollywood movie Shaayad starring Vijayendra Ghatge.
Biggest Drawback
Lack of a CD/DVD drive is the single biggest issue with this netbook.
This means if you want to install drivers or other software, you either have to download it off the Internet or purchase an external CD/DVD drive for about $65 from an online store like Amazon or Newegg or your local BestBuy, OfficeMax or Staples.
You also need the external drive to create a recovery disc in case something goes horribly wrong with the netbook and you want to restore things to the original factory setting.
Then there are some minor issues like the crapware for trial versions of Carbonite backup and Microsoft Office 2007.
Good, Overall
But our complaints are mostly minor (except for the lack of a CD/DVD drive).
Overall, we'd say the Acer AspireOne 10.1-inch AOD 150-1165 netbook is a decent product for those tired of lugging around bulky notebooks with short battery lives.
But before you decide to buy it, you might also want to look at the Asus Eee PC 1000he 10.1-inch netbook for its longer battery life.